33 Unforgettable Things To Do In Belize [2022]
Privileged with the Caribbean coast, Belize proudly hosts the longest unbroken barrier reef in the region surrounded by hundreds of tiny islands. Complimenting all this glory is a dense rainforest with mysterious & sacred Mayan sites.
Belize is one of those countries that's really weird in a good way. You arrive to what seems like a Latin American country, yet everyone speaks English and vibe feels... Caribbean. But it doesn't stop there. Unlike Mexico or Costa Rica, you can literally go from reef to rainforest in the same day.
There's so much to do between the water and the jungles of Belize as well.
As a local that also travels, I hand-picked the best activities that are genuinely worth doing including everything from sailing on a catamaran to tracking jaguars at night. There's something in this list for thrill seekers, culture cravers, water lovers and foodies.
If you're in a rush, these are the top 3 activities I recommend for first-time visitors:
Already decide where to go? Check out these destinations:
Jump to something that interests you or just keep reading in order.
Unique Activities
Unique Activity
Regarded as the #1 Sacred Cave in the World by National Geographic, the ATM Cave Tour is truly worth the hype. The three-hour caving adventure includes a hike through the jungle, a river crossing, climbing over rocks and swimming through crystal clear water.
Frankly, that summary doesn't do it justice. But, this will be the highlight of your trip.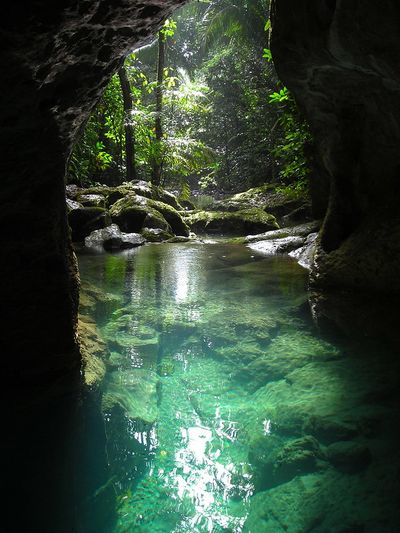 Unique Activity
The Great Blue Hole is known as one of the top scuba diving sites in the world but did you know you can also fly over it? The tour can be booked through Tropic Air or Maya Island Air and includes several fly-bys of the majestic blue hole, a view of the Atolls and even a large shipwreck sitting on the edge of the reef.
While I haven't done this tour myself, my friends have commented that the fly-over tour is an out-of-this-world experience which can't be compared to swimming in it. Well, at least for non-divers.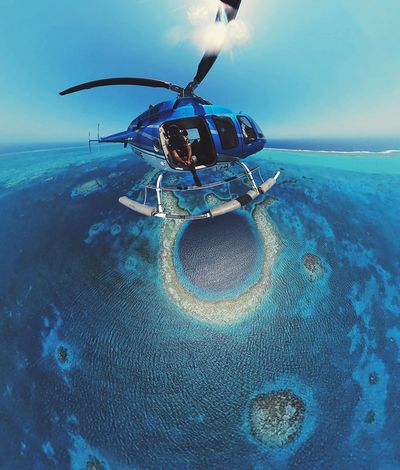 Unique Activity
There's a scene in the original Anaconda Film with a house-looking boat floating on a river by a waterfall that reminds me of this tour. It takes place on Vaca Lake, a man-made reservoir caused by the Vaca Dam in the upper Macal River near Benque Viejo Town.
While on the tour, you can climb several waterfalls, tube behind the boat, hang on a rope swing and have a barbecue lunch onboard. If this is not a unique tour, I don't know what is.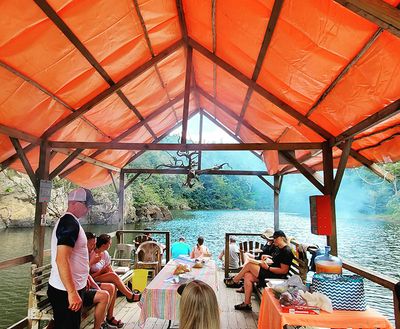 Recommended
Jungle Splash Eco-tours (Near Benque Viejo)
Martz Farm Treehouses & Cabanas (Near Benque Viejo)
The Lodge At Chaa Creek (Near San Ignacio)
Unique Activity
While cave tubing is considered to be a very touristy activity, it's a novel tour unique to Belize. The tour is mentally & physically relaxing and easy while still being exciting. It's a perfect activity for families with kids. The most popular place to go cave tubing is at Caves Branch river system at the Nohoch Che'en Caves Branch Archaeological Reserve.
From Belize City, there is a 1.5-hour car ride to the site before entering the cave system.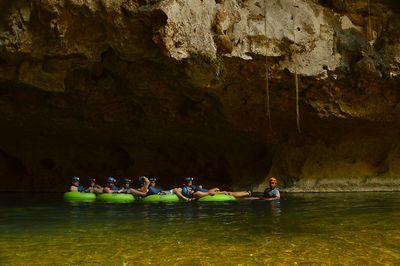 Did you know that Belize has one of the largest concentrations of manatees in the world? Yes, it's because of the unique ecosystem, but it's also due to the Manatee Conservation Program.
If you would like to swim with these gentle giants called Sea Cows, take a trip to Swallow Caye Wildlife Sanctuary which is near the coast of Belize City. Tour companies also offer the tour activity on popular islands and the coast.
And, remember to do so responsibly and not touch them, feed them or put them in any danger. Be patient and enjoy the magical encounter.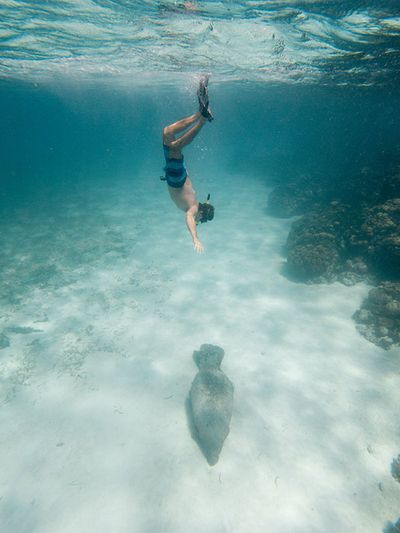 Unique Activity
Described by many as the trip of a lifetime, going on a three-day sailing adventure hopping from island to island is story to tell for a long time. The tour companies offer multiple day trips as well as same-day sunset tours if you have limited time.
The multi-day tours is designed as an island hopping adventure where you get to visit tiny islands known as cayes like Rendezvous Caye, Tobacco Caye, Goffs Caye and South Water Caye. Some of them are uninhabited pieces of paradise.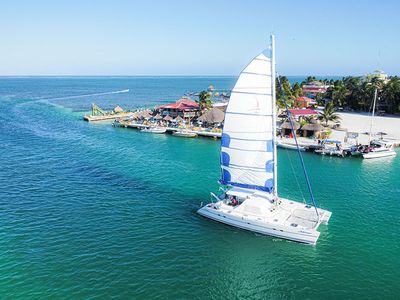 Unique Activity
You don't have to go to the Maldives to stay in an overwater bungalow. There are some off these floating houses available on Airbnb that we can actually afford! A plethora of luxury stays are available as well.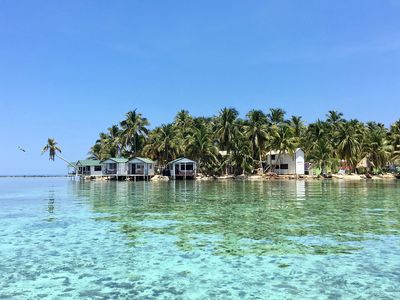 Recommended
St. George's Caye (20 mins off Belize City coast)
Coco Plum Caye (30 mins off Dangriga coast)
Tobacco Caye (30 mins off Dangriga coast)
Chill Activities
Chill Activity
To compliment an overwater bungalow experience, stay at jungle eco lodge. With over 60% of Belize's land surface covered by forest, aerial shots of jungle lodges look like scenes straight out of a movie.
Eco lodges in the jungle provide you an intimate connection with nature and wildlife. It's a perfect way to recharge from all the adventurous tours available in the region.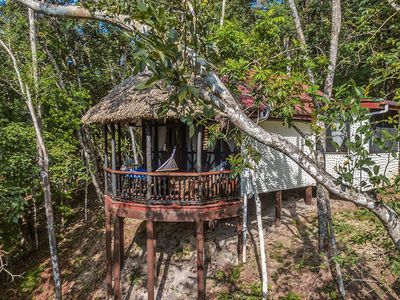 Recommended
Lodge at Chaa Creek (Near San Ignacio)
Hamanasi (Hopkins)
Table Rock Lodge (Near San Ignacio)
Chill Activity
Having the second-largest barrier reef in the world means having world-class snorkeling and scuba diving at your fingertips. Most travelers opt for a half-day snorkeling trip to Hol Chan Marine Reserve & Shark Ray Alley. Wildlife you can spot include turtles, nurse sharks, sting rays, fishes and coral formations.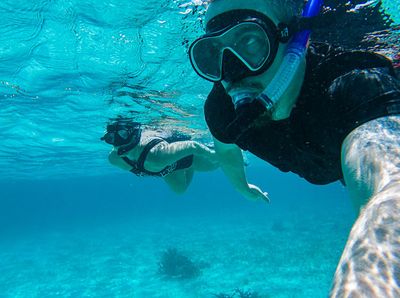 Recommended
Hol Chan Marine Reserve (15 mins boat ride)
Mexico Rocks (20 mins boat ride)
Lighthouse Reef Atoll (3 hrs boat ride)
Chill Activity
Kayaking is one of the most meditative experiences to have on the water. If you're on an island like Caye Caulker, I recommend renting a kayak and going around the island itself. You can even kayak to the other side of The Split.
To shake things up a bit, you can also take a shot at paddleboarding.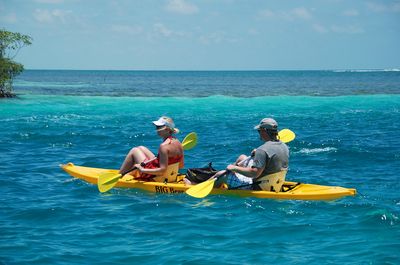 Recommended
Caye Caulker (1hr off Belize City coast)
Glover's Atoll (2hrs off Dangriga coast)
Macal River (Cayo District)
Chill Activity
Trying to spot wildlife can be a bit exhausting. A good compromise can be visiting a sanctuary. One of the largest sanctuaries in country is The Belize Zoo which hosts over 150 native animals.
It might come as a surprise that the local zoo is actually a sanctuary, but it really is. Most of the animals are rescued, orphaned or born at the zoo. Also, surprising is that it's the first nature destination in the country to be fully accessible to visitors with physical disabilities. How cool is that?
Other unique wildlife sanctuaries include those for iguanas, baboons, and even crocodiles.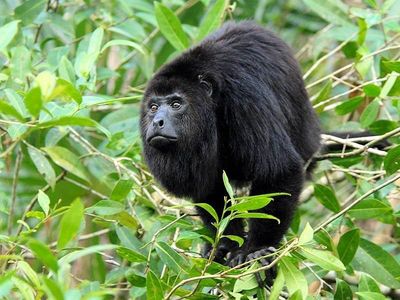 Recommended
The Belize Zoo (Belize District)
The Iguana Eco Corner (Ambergris Caye)
Community Baboon Sanctuary Visitor (Belize District)
Chill Activity
While I'm not hardcore Birder, some of my close friends are, so I've spent some time identifying birds on my local trips. According to eBird.org, close to 600 species have been observed in the country as of 2022.
My personal favorite site has been Sittee River which is close to Hopkins Village. Northern Belize is also highly recommended due to the rivers, wetlands & savannas. The Lamanai Archeological Reserve — which can be accessed by river tour — is in the area along with Chan Chich Lodge, an eco lodge deep in the jungle bordering Guatemala.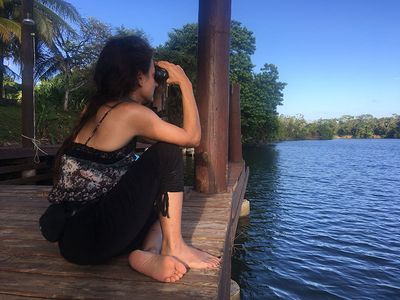 Recommended
Crooked Tree Wildlife Sanctuary (Orange Walk District)
Cockscomb Basin (Cayo District)
Half Moon Caye Natural Monument (Lighthouse Reef Atoll)
Chill Activity
The Hummingbird Highway is one of the most photogenic highways in the country. It's loaded with stunning natural attractions and delicious food along the way.
If you're heading south towards Hopkins or Placencia, you'll be passing through this highway. Stop at Marie Sharp's Factory for a unique tour experience — Belizeans love and are proud of their hot sauce.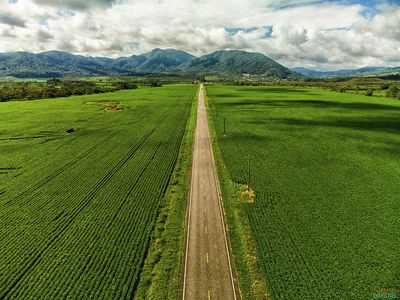 Recommended
Ms. Bertha's Tamales
Marie Sharp's Factory And Farm
Xaibel Shell Station
Chill Activity
After the pandemic started, I was extremely excited to see locals produce more homemade products. Now we have much more local products available in addition to our beloved Marie Sharp pepper sauce.
Some ideas for locally made souvenirs include: cacao chocolate, art pieces, coconut rum, wood work and coconut oil.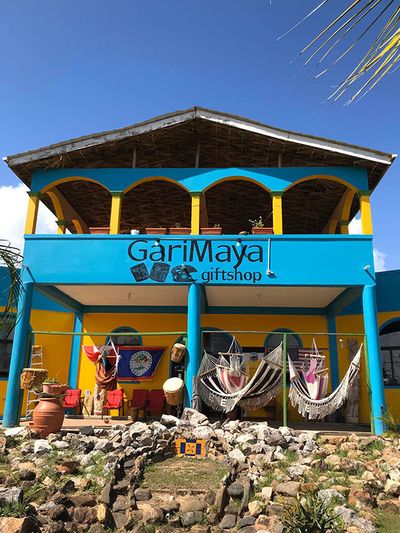 Recommended
Artbox (Near Belmopan City)
GariMaya Gift Shop (Hopkins)
Maya Center Women's Group Gift Shop (Near Hopkins)
Adventurous Activities
Adventure Activity
Scuba diving in Belize second to none. While I'm not a diver myself, my friends are, and they share all their experiences with me. I can't imagine how magical it would be to hover in the water.
The recommended sites below are from scuba divers that have actually been to Belize.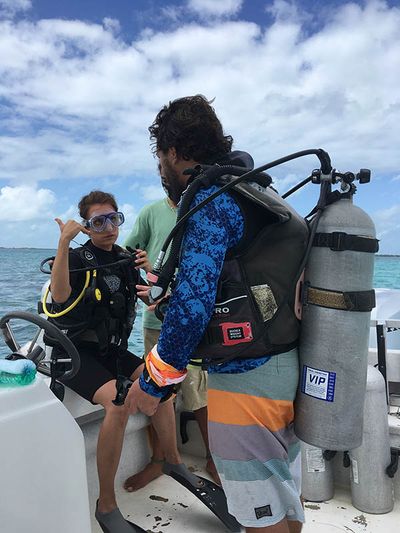 Recommended
Lighthouse Reef, Turneffe Reef, Glovers Reef Atoll
The Great Blue Hole (3hrs from Ambergris Caye)
Hol Chan & Shark Ray Alley (15 mins from Caye Caulker)
Adventure Activity
National Parks are scattered all over Belize, but the best ones have waterfalls and tons of wildlife around. If hiking is your priority, I highly recommend staying in the western and southern part of Belize which is both mountainous and home to large natural reserves with dozens of hiking trails.
Wildlife is also booming in the area with hundreds of birds and a chance to spot the elusive jaguar.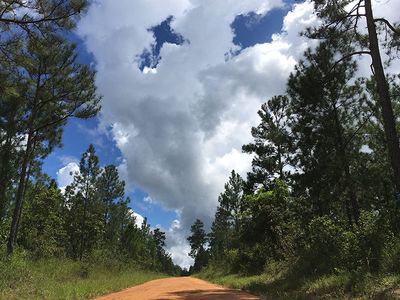 Adventure Activity
If hiking tours during the day aren't enough for you, try adding the cover of nightfall to it. This is when the jungle wakes up and things get a tad bit more interesting.
A very exciting night hike would be tracking jaguars in their natural habitat at the only jaguar preserve in the world, Cockscomb Basin Wildlife Sanctuary.
Recommended
Cockscomb Basin Night Hike (Cayo District)
Belize Zoo Nocturnal Tour (Belize District)
Bioluminescence River Tour (Sittee River)
Adventure Activity
There's nothing quite like a relaxing massage around a waterfall after a long day of hiking through the jungle. Belize is home to over a dozen waterfalls all perfectly scattered throughout the country.
My favorite waterfalls are those that are slightly hard to reach giving you a good chance of having the entire site to yourself.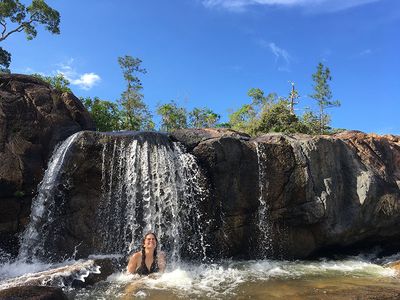 Recommended
Big Rock Falls (Near San Ignacio)
Maya King Waterfall (Near Hopkins)
Davis Falls (Near Dangriga)
Adventure Activity
You can surf in Belize? No way. Up until recently, I discovered that Long Caye is the only island in the country with a surf break that doesn't break live coral. So it's totally possible to catch a wave.
Adventure Activity
The archeological site of Tikal is one of the largest in Mesoamerica and a UNESCO World Heritage Site. Being in Belize means you are now technically closer to this Mayan Empire than those in Guatemala City are.
Being in Belize, more specifically in San Ignacio, can be an excellent opportunity to visit another archeological wonder just two hours away.
For more information, check out Crossing the Belize Guatemala Border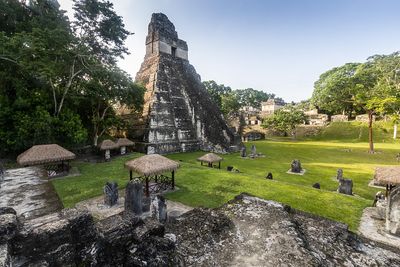 Food Activities
Food Activity
One of the joys of traveling is getting to visit the local market and tasting the local fruits and vegetables. Markets are normally hubs of activity & commerce.
And the best part is getting to taste the local dishes at these markets. With Belize having such an unusual mix in cultures like the Mayas, Garifunas and Creoles, you might find some interesting food on your visit.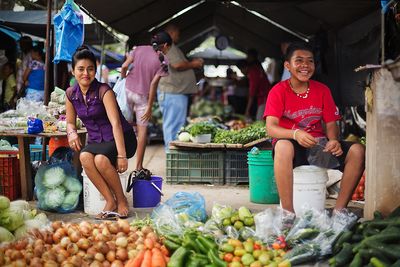 Recommended
Belmopan Market (Belmopan)
San Ignacio Market (San Ignacio)
PG Market (Punta Gorda)
Food Activity
In my opinion one of the best ways to experience a country is to eat like the local people. While it may not be 100% healthy, it's downright delicious and sometimes criminal. While fancy restaurants try to infuse other cuisines, it doesn't quite hit the spot like street food.
For the best experiences, I recommend looking for those hole-in-the-wall joints with lots of locals lined up in front. The best food spots in Belize are those that serve food to the local workers.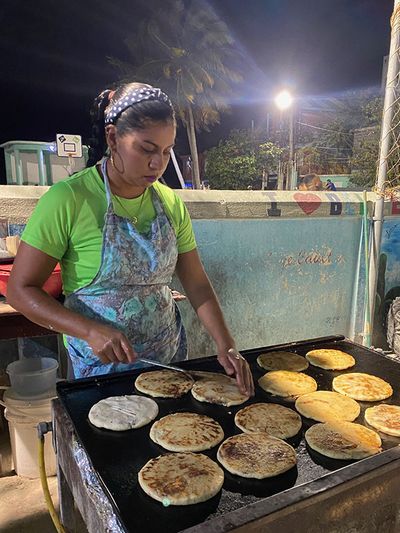 Recommended
Breakfast: fry jacks, johnny cakes, meat pies
Lunch: rice & beans, boilup, tamales
Snacks: plantain chips, coconut tarts, creole bread
Food Activity
While food tours are not as popular in Belize as yet, the landscape is rapidly changing. Food tours like those from Taste Belize take you around the tiny Belize world to experience traditional food of the area in a short but engaging walking tour.
Some tours even offer cooking classes and rum tasting.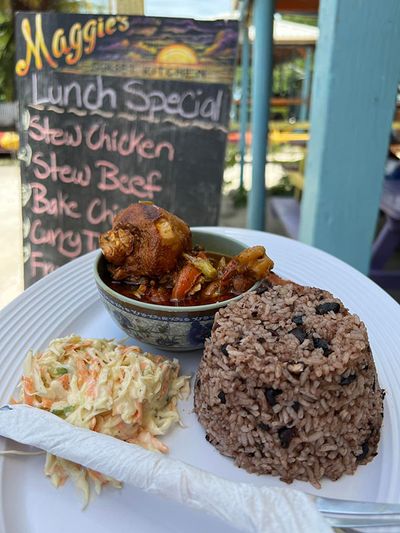 Recommended
Taste Belize (Placencia)
Belize Food Tour (San Pedro)
Culinary & Culture Tour by Otehlia Travels
Food Activity
This might require a bit of luck or some planning, but festivals are worth the hassle. Not surprisingly, most festivals are related to food from the region. Look up one of these festivals below and see which one lines up with your taste buds.
Recommended
Chocolate Festival (May)
Cashew Festival (May)
Lobster Festival (June)
Cultural Activities
Culture Activity
As an amateur plant-based cook, I'm always curious about the ingredients and history behind new dishes. Here in Belize, you can expect cooking classes for Mayan, Garifuna & Creole food — all guaranteed to be fun culinary experiences. Dishes might include tamales, hudut and the ever-so-famous rice & beans.
And... if a cooking class are a bit too daunting, you can settle for a more relaxed chocolate-making tour.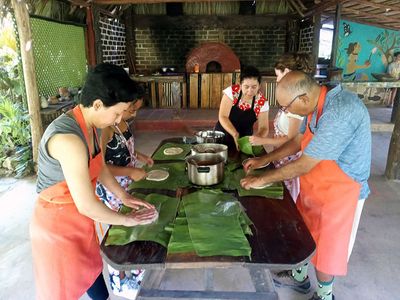 Recommended
Eden Valley Mayan Kitchen (San Ignacio)
Palmento Grove Cultural & Fishing Lodge (Hopkins)
Open Hearth Kitchen (Lodge at Chaa Creek)
Culture Activity
If you visit a Mayan Site somewhere in the Yucatan, chances are that it will be crowded not as magical as you hoped it to be. Fortunately for Belize, this isn't the case. The majority of Mayan Ruins are uncrowded. The largest Mayan Ruin in Belize is actually so remote that it normally only gets about a dozen visits per day, so you might get it to yourself.
Talk about keeping the magic alive.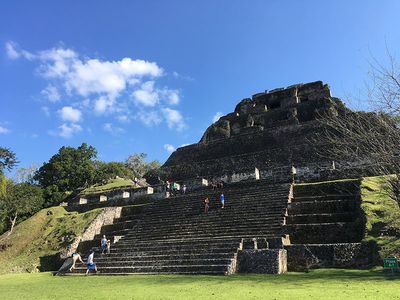 Recommended
Caracol: (Largest Site)
Xunantunich (Second-largest Site)
Lamanai (Third-largest Site)
Culture Activity
The Maya people are technically the country's indigenous population. One of their cultural traditions has been the preparation of chocolate using stone to grind organic cacao bean into paste. The end product is authentic Mayan Chocolate.
Besides chocolate making and tasting, some tours include a farm tour that lasts two to three hours. You can find these tours in Western and Southern Belize where the Maya Tradition remains alive and well.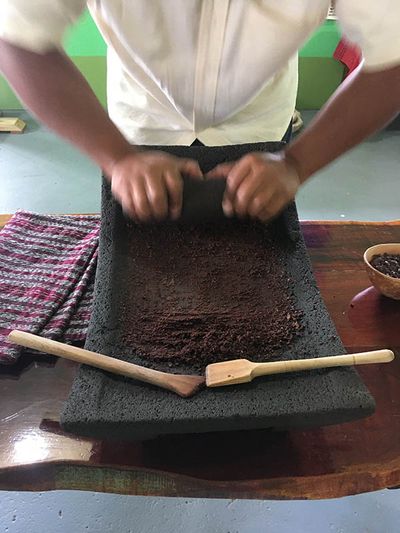 Recommended
AJAW Chocolate (San Ignacio)
Ixcacao Maya Belizean Chocolate (Toledo District)
Lamanai Chocolate (Hummingbird Highway)
Culture Activity
The first time I was ever introduced to Garifuna drumming was on their name day, Garifuna Settlement Day (November 17th). The Garifuna people perform a re-enactment ceremony of them arriving Belize in their canoes along with their children, cultural food and of course, their drums.
You can learn to play those drums from expert teachers that have played it since they were kids. In fact, there's only one drumming school you can take — Lebeha Drumming in Hopkins Village.
And if that's not your jam, you can opt to simply listen to the drumming at Driftwood Beach Bar on most weekends which is also in Hopkins, home of the Garifuna people.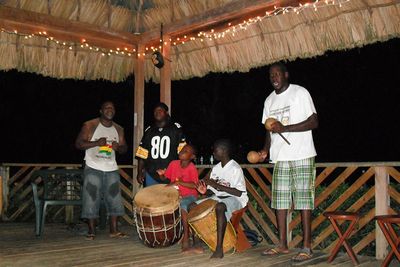 Culture Activity
Sometimes, we just want to kick back, relax and take a break from all the adventures. A slow vacation day can help you recharge for the next day. And what better way to do it than taking an educational nature tour which can be perfect for families.
These tours can teach you about the local flora and fauna and in Belize including butterflies, local spices and even natural medicine.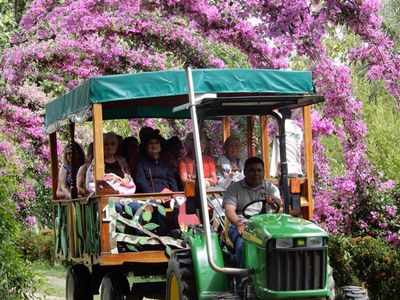 Recommended
Belize Spice Farm & Botanical Garden (Near Punta Gorda)
Ya'axkin Butterfly House (Near Hopkins)
Rainforest Medicine Trail (Near San Ignacio)
Culture Activity
One of the most memorable experiences I've had traveling is visiting small remote villages. In Belize, some of the most traditional villages can be found down south where the local Maya people thrive living simple lives surrounded by incredible nature.
Recommended
Sarteneja Village (Corozal District)
Crooked Tree Village (Belize District)
Blue Creek Village (Toledo District)
Local Activities
Local Activity
While the public bus isn't for everyone, it can be an opportunity to experience the local culture. How often do you get to sit in a school bus with a Mennonite man to left, and a Garifuna lady to your right, all listening to Reggae music on a highway with a lush view of the rainforest. Maybe not that many times.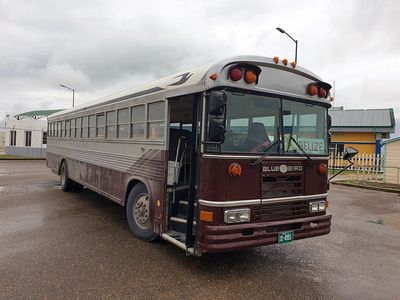 Local Activity
Objectively speaking, there's no better way of understanding a country's people than eating, moving and maybe even drinking with them. If you get a chance to interact with locals on a tour, restaurant or bar, take some time to ask them about their life. You'll be surprised how interesting some people can be. You might make some new friends in the process.
Belizeans tend to chill and hangout over barbecue in the weekends, so that's a good time to hang out.
Local Activity
Belize doesn't produce many products unfortunately, but there are two popular products we do make — beer and hot sauce. If you do try them, do it the way locals do it — buy your Belikin beer at the local Chinese shop and put your hot sauce on your rice & beans or fry jack.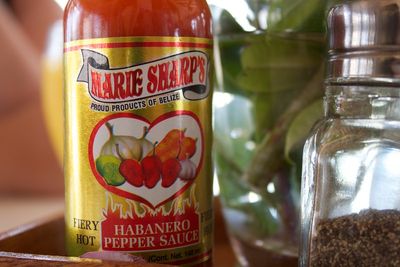 33 Unforgettable Things To Do In Belize
Explore The Most Sacred Cave In The World
Fly Over The Great Blue Hole
Float Down The River On A Jungle Pontoon
Go Cave Tubing
Swim With Manatees
Go Island Hopping On A Sailboat
Stay In An Overwater Bungalow
Stay At A Jungle Eco Lodge
Snorkel The Belize Barrier Reef
Kayak Around An Island
Visit A Wildlife Sanctuary
Go Bird Watching
Drive The Scenic Hummingbird Highway
Shop For Local Products
Go Scuba Diving
Go Hiking At A National Park
Experience A Night Tour
Chase Some Pristine Waterfalls
Surf Outside The Reef
Hop Over To Guatemala & Visit Tikal
Visit A Local Farmers Market
Try Authentic Street Food
Enjoy A Local Food Tour
Attend A Food Festival
Take A Cultural Cooking Class
Visit An Uncrowded Mayan Ruin
Take A Mayan Chocolate Tour
Take A Garifuna Drumming Class
Try An Educational Nature Tour
Visit A Small Village
Ride The Chicken Bus
Hang With The Locals
Try Marie Sharp & Belikin