Xunantunich Mayan Ruins: Belize's Second Tallest Building
Despite being one of Belize's most popular attractions, Xunantunich's magic has been preserved. The site includes a ferry ride, hiking trail and stunning views.
Have you ever been to a popular attraction only to be disappointed with how commercialized, overcrowded and underwhelming it is? Xunantunich is not that type of place.
As a local that has lived in San Ignacio and visited this site every other weekend, I can confirm that this site offers a unique experience for anyone. It's definitely worth a visit.
Let's find out why.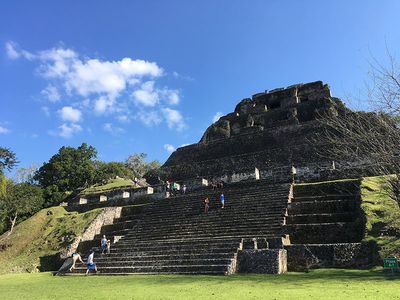 Essentials
Water, sunblock, comfortable shoes
Tour Guide
Not mandatory, available at entrance
Amenities
Parking, restroom facilities
Before we dive in, how do we even say Xunantunich? This is how it's said based on phonetics of the Mayan language.
SHOO NAN TUN NITCH
Xunantunich Pronunciation
To date, the temple of El Castillo (The Castle) is the second largest man-made structure in Belize measuring 130ft (40m).
The site is approximately half a mile (1km) away from the border with Guatemala.
Xunantunich means Stone Maiden. It is said that a maiden appeared one night, more than a century ago, but quickly dissolved into the stone of El Castillo leaving only the name for this ancient city.
Xunantunich was not a large city and had a population of 7,000 to 10,000 people living within a radius of 1.86 miles (3 km) from the site center.
It is fairly common to see destination weddings performed at Xunantunich including the entire ceremony.
Hand-cranked Ferry
Getting to the site includes a short and free ferry ride over to the Xunantunich access road. This ferry transfers both visitors and vehicles across the river.
Hiking Trail
After crossing the ferry, there is a 30-minute hike or 1 mile (1.5km) trail upwards towards the site which is perfect for bird watching and spotting iguanas.
Stunning View
The highest temple "El Castillo" is 130ft (40m) tall with a breathtaking 360 view of the compound reaching all the way to the Guatemalan border with Belize.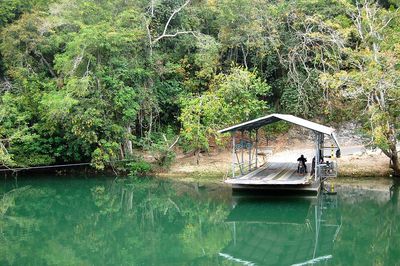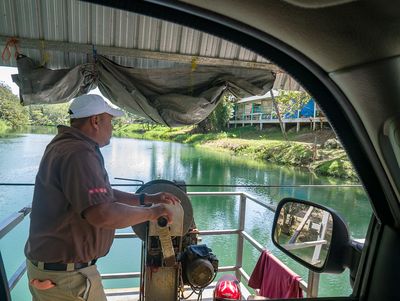 In my opinion, Xunantunich is for everyone. It includes all the elements that will satisfy most travelers.
1. Scenic Drive
If you're driving there, it includes a 30-minute drive that can be fun for families. Getting there by bus or shared taxi can also fun cultural experience.
2. Xunantunich Ferry
After arriving at the entrance, the next step is to cross the river on a ferry that transfers both vehicles and the passengers. Everyone in the car will be asked to exit the vehicle except the driver.
3. One Mile Hike
The third part of the trip which is the one-mile hike is slightly tough since it's uphill but also extremely relaxing and perfect for solo travelers and couples. If you cannot walk without assistance, it would be best to go by car or taxi.
4. El Castillo Reveal
In my opinion, the best part of the journey is seeing the El Castillo—the second-largest building in Belize—for the first time after climbing the stairs at the entrance of the compound. The temples, grass and background looks slightly unreal.
5. Exploring & Climbing
Luckily for everyone, all of Xunantunich's plazas and temples can be climbed without restrictions. It can be fascinating to visualize how this civilization once thrived while exploring. A guide can give you much deeper insight of course.
6. Breathtaking View
After all that hiking, the big payoff comes in the form of a stunning view of the entire compound. While at the top, you finally get to feel the fresh air and take a glimpse of the Guatemalan border. You can finally sit down, soak up the sun and enjoy the view.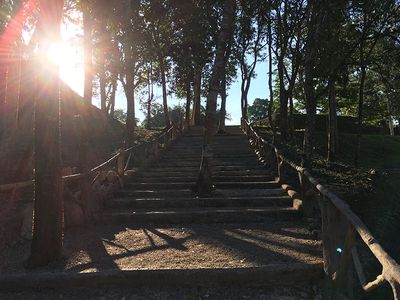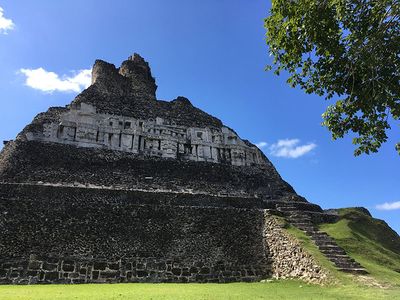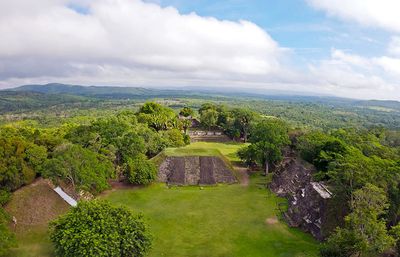 There are two main tours available at the site:
Tour guides can be hired at the entrance before taking the ferry across the river. Prices start at $30.00 USD for a two-hour session for two people. Alternatively, you can book this tour with any tour company in San Ignacio Town.
While I'm not sure about the ethics of most horseback riding companies in Belize, this tour is available to the site. It starts at San Jose Succotz and goes to Xunantunich and lasts a total of 4-5 hours including an hour at the site. This tour is not available on site and needs to be pre-booked.
Avoid the midday sun: if you enjoy birding, getting there at in the early morning or late evening can increase your chances of spotting birds, iguanas and maybe even howler monkeys. Plus the weather will be much cooler without the harsh midday sun.
Hike the trail: if you're on a car rental and have free time, I highly recommend parking your car and hiking up the one-mile trail. It's perfect for bird watching.
Hand-crank the ferry: don't be afraid to ask the ferry worker to give you a shot at cranking it.
Consider hiring a guide: there are no informational signs for the temples or plazas, so you might as well be looking at a pile of stones. If history is important to you, hire a guide or check out the Visitor Center.
Check the Visitor Center: if you decide to explore the site without a guide, check out the visitor center at the beginning of the path. It has plenty of historical facts and information.
Visit Cahal Pech too: Cahal Pech combines perfectly with Xunantunich for a day trip. Both sites offer a unique experience and are easily accessible from San Ignacio.
The fastest and cheapest way to get to Xunantunich is by shared taxi from San Ignacio. It's a scenic 20-minute drive towards San Jose Succotz followed by a river crossing via ferry and a short one-mile hike towards the site entrance. You can also get there by bus and car rental.
These are the three main ways you can there:
By Shared Taxi - cheap & fast at $1.50 USD
By Bus - cheapest option at $1.00 USD
By Car - fastest & most convenient
From San Ignacio, take a shared taxi (colectivo) in front of Martha's Guesthouse crossroads for $1.50 USD ($3.00 BZD) per person.
Before entering the taxi, tell the driver you are going to Xunantunich since this goes towards the Guatemalan Border.
Upon arrival, you'll see the big brown sign labeled Xunantunich Archeological Reserve along with the ferry that looks like a floating house.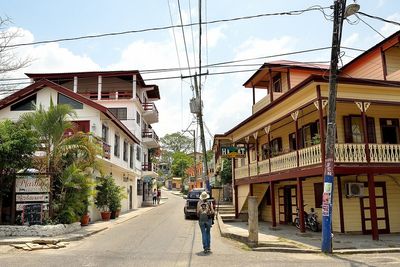 Take a bus from San Ignacio to Xunantunich by starting at C.W.C Bus Stop found beside the Cayo Welcome Center. Check the San Ignacio bus schedule for more details.
Wait for a bus labeled as BENQUE, go in the bus and tell the driver you are stopping at Xunantunich. After being seated, the conductor will charge you $1.00 USD ($2.00 BZD).
Upon arrival, you'll see the big brown sign labeled Xunantunich Archeological Reserve.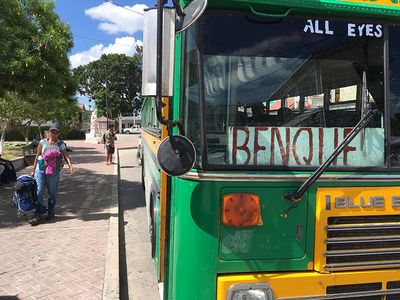 Driving to Xunantunich is easy. First, head towards San Jose Succotz from San Ignacio.
Stop upon seeing the Xunantunich Archeological Reserve sign where you can also see the small ferry.
Park your car and wait for instructions from the ferry operators. The ferry transfers up to four cars in one trip and takes a couple of minutes to transfer you across the river.
| Xunantunich | Details |
| --- | --- |
| Entrance Fee for Tourists | $5.00 USD per person |
| Entrance Fee for Locals | $2.50 USD per person |
| Recommended Time | 2 Hours |
| Tallest Structure | 130ft (40m) tall |
| View from top | Guatemalan border |
| How old is it? | 1000 BC to 250 AD |
| What does it mean? | Stone maiden |
| Distance from town | 40 min drive (12.2km) |
| Ways to get there | By bus, taxi, car |
| Days Opened | 365 days a year |
Frequent Questions
Where is Xunantunich located?

Xunantunich is located at San Jose Succotz which is a small village in the Cayo District.
How far is Xunantunich from San Ignacio Town?

Xunantunich is a 30-minute drive from San Ignacio Town.
How much time do you need at Xunantunich?

In general, two hours is sufficient time to explore all plazas, climb all temples and spot any wildlife.
Can I hire a tour guide at the site?

Yes, tour guides are available for hire at the entrance of the site before taking the ferry. Prices start at $30.00 USD for two people for a two-hour session.
Can I climb Xunantunich?

As of June 2022, you can climb the tallest structure, El Castillo and all other structures. It was closed down temporarily because of covid.
Can I drive to Xunantunich?

Yes, the road is paved and there are clear signs marking the entrance of the compound. Just be wary of speed bumps.
Am I obligated to hike up to Xunantunich?

If you're on a car rental or taxi, you can drive up instead of doing the one mile hike uphill after doing the ferry crossing.
Do I need to tip the ferry operator?

No, it is not required. They are paid by the government and the entrance is inclusive of the short ferry transfer.
Resources
Niche Belize

Xunantunich Information Center