Cockscomb Basin: The World's Only Jaguar Preserve
Cockscomb Basin might be your best bet at getting a glimpse of the elusive jaguar. This wildlife haven is also packed with the absolute best hiking trails in Belize.
While I'm not an expert hiker, I have visited the sanctuary several times in an attempt to spot a jaguar. Having also camped at the site, I can share some insider tips about spending the night at the reserve and renting a cabin.
Let's dive in.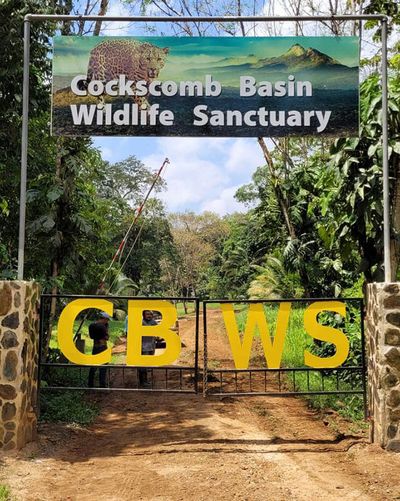 Essentials
Water, sunblock, hiking boots
Amenities
Camping grounds, dorms & cabins, picnic shed, restroom facilities, parking
The sanctuary is located in Southern Belize and covers 150 square miles of tropical forest.
The name Cockscomb derives from the appearance of the mountain ridge that resembles a rooster's comb.
It is the world's first and only Jaguar Preserve.
The highest point in Belize, Victoria Peak at 3675ft (1120m) is found in this mountain range.
The reserve is a protected environment for over 200 jaguars — the largest concentration in the world.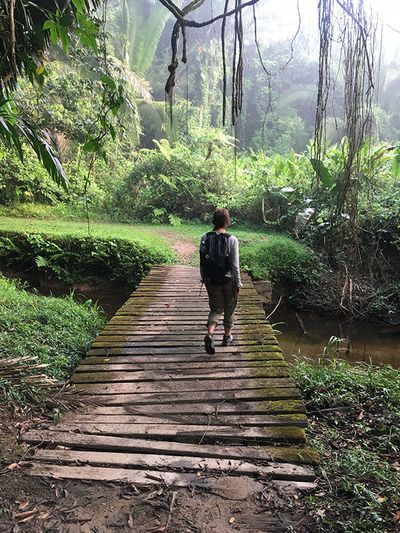 Hiking Trails
There are 20 miles of maintained hiking trails, the most extensive network in the country, ranging from easy one-hour long strolls to four-day expeditions.
Waterfalls
One of the trails is a rigorous hike that ends at Tiger Fern Double Waterfalls — a pair of pristine waterfalls with natural swimming pools. Expect four hours roundtrip.
Jaguars
Having the largest population of jaguars in the world, Cockscomb Basin might be the best opportunity to spot a jaguar in the wild or their footprints at the very least.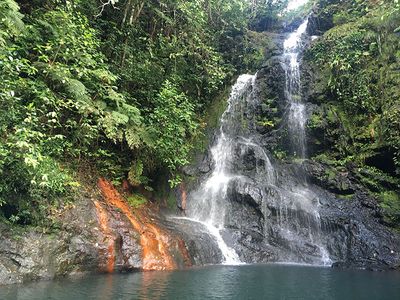 The fastest and easiest way to get to Cockscomb Basin is by car rental. Upon arriving the cut-off point on the Southern highway, you will have to drive for 6 miles (10km) through dirt road before arriving the entrance of the site. You can also get there by taking a bus & taxi combo.
These are the three main ways you can there:
Bus and taxi combo: get up early to catch a bus to the highway junction, then catch another bus to Maya Center. At this site, buy your tickets and find a taxi to take you to the park for roughly $20.00 USD.
Hitchhike: catching a ride is very common in Hopkins, so you can catch a ride after arriving the intersection point at Maya Center, but it's all luck from there.
Hike all the way: this is not a long trail at only 6 miles (10km) but you might be tired to walk the trails at the park after walking under the sun for so long. But, on a brighter note, if you're early, you might spot a jaguar.
Check the Visitor Center: there is a small information center at the park entrance with some facts about the park and the jaguars.
Consider taking a night hike: a night hike tour gives you higher chances of seeing wild cats like the jaguar, puma, ocelot and jaguarundi.
Visit during rainy season: wildlife is more active during the rainy season which especially at the beginning — June & July.
Camp at the reserve: increase your chances of seeing a jaguar by camping at the reserve or staying in a cabin available on site.
There are two tours/activities available at the site:
After hiking the entire day, floating down the river on a river tube can be rejuvenating. The tubes can be rented at the Visitor Center for $7.50 USD. You will have to hike for about 15 minutes to get to the river.
Besides river tubing, a popular tour is hiking the popular trails at night. Exploring the rainforest at night can be a captivating experience. Hamanasi offers tours at $95.00 USD per person which lasts for 4 hours.
Accommodation at Cockscomb includes the option of private cabins, shared dorms and camping. It's important to know that all the cabins are rustic and by no means luxury stays.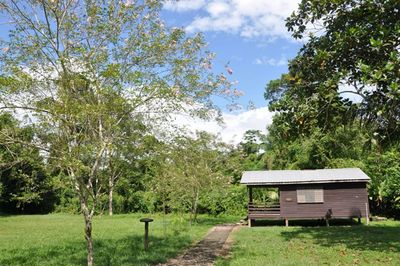 Foreigners: $120 USD per cabin
Locals: $60 USD per cabin
Details: Kitchen with dining hall, bathroom with hot/cold shower, spacious porch, accommodates 5 persons
Foreigners: $20 USD per person
Locals: $10 USD per person
Details: Consists of 5 rooms, for large groups, 3 bunks per room, shared bathrooms, spacious porch
Foreigners: $81.75 USD per cabin
Locals: $40.87 USD per cabin
Details: two bedrooms, has mini halls, indoor bathrooms, accommodates 5 persons
Foreigners: $20 USD per room
Locals: $20 USD per room
Details: four bedrooms with two single beds in each, has porch, outdoor bathroom
Foreigners: $150 USD per cabin
Locals: $75 USD per cabin
Details: 1.5 miles from HQ, upstairs with two bedrooms, downstairs with one bedroom, kitchen with mini hall, indoor bathrooms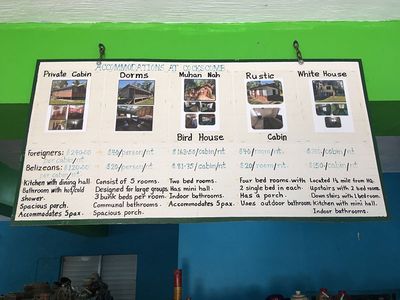 While spotting wildlife isn't guaranteed, you have the possibility of spotting these animals in the wild along with 300 species of birds.
Jaguar
Jaguarundi
Howler Monkey
Agouti
Puma
Ocelot
Margay
Kajous
Peccary
Tapir
Gibnut
Paca
Broket Deer
Tayra
Otter
Coatimundi
Macaw
Parrot
Great Curossow
Keel-billed Toucan
King Vulture
Hawk Species
Snakes
Foxes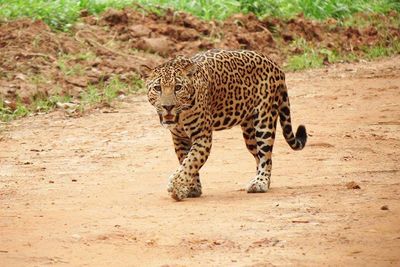 The trails are incredibly rich with flora and fauna including many bird species, howler monkeys, agoutis, and of course jaguars. But it's very unlikely you'll spot one. They are nocturnal after all.
This list of Cockscomb Basin hiking trails is listed in order of popularity and is more reliable than the distances the park signs suggest.
| Cockscomb Basin Trails | Distance | Estimated Duration | Level |
| --- | --- | --- | --- |
| Tiger Fern Trail | 3.4 miles (5.5km) | 2hrs | Hard |
| Ben's Bluff Trail | 2.5 miles (4.0km) | 1hr 19mins | Moderate |
| Outlier Trail | 9.3 miles (15.0km) | 4hrs 53mins | Hard |
| Wari Loop | 2.8 miles (4.5km) | 1hr 11mins | Moderate |
| Waterfall Trail | 2.7 miles (4.4km) | 1hr 14mins | Hard |
| Plane Wreck Trail | 2.0 miles (3.2km) | 47mins | Easy |
| Antelope Trail | 3.9 miles (6.3km) | 1hr 43mins | Moderate |
| Curassow Trail | 1.3 miles (2.1km) | 32mins | Moderate |
| Victoria Peak Trail | 17 miles (27.3km) | 2 Days | Very Hard |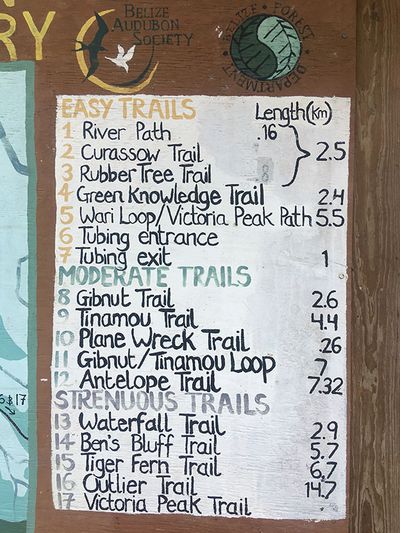 | Cockscomb Basin | Details |
| --- | --- |
| Entrance Fee for Tourists | $5.00 USD per person |
| Entrance Fee for Tourists (3-10 years) | $1.25 USD per person |
| Entrance Fee for Locals | $1.25 USD per person |
| Camping Fee for Tourists | $10.00 USD |
| Camping Fee for Tourists | $5.00 USD |
| Tubing Fee | $15.00 USD per person |
| Trail Maps | $5.00 USD |
Resources