Driving The Hummingbird Highway In Belize: 10 Fun Stops
The Hummingbird Highway is one of the most beautiful and scenic drives in the country. It's also loaded with stunning natural attractions and delicious food along the way.
So you're heading on a road trip towards Hopkins, Placencia or maybe even Punta Gorda. Whether you're a big family or a couple of adventurers, there's a little something for everyone. We'll take a look at everything from chocolate tours to waterfalls. I'll even squeeze in some of my recommendations as a local.
Let's dive in.
Activity
One of the first stops on the Hummingbird Highway upon entering Belmopan City is a national park that's perfect if you have kids. The area offers a hiking trail, access to a hammock bridge and a river that's swimmable.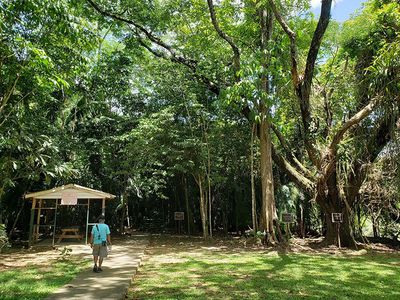 Unique with trees like the cohune tree can be found at the park and of course the Guanacaste tree which is the reason for the park's name. The wildlife is equally impressive with bird watching being popular and an opportunity to spot howler monkeys, iguanas and gibnuts.
Location: Western Highway
Hours: 8AM—4:30PM daily
Entrance: $2.50 USD per person
Restaurant
If you're a fan of Farmers Markets, this will be a nice treat, but you'll have to be lucky. This tiny market is open for half a day on Fridays only.
It's located at the exit of Belmopan City, so it's hard to miss. Vendors get together to sell natural and organic products including local bread, snacks, yogurt, organic fruits, veggies, natural soaps and souvenirs.
This is a perfect stop to load up on supplies for the road trip.
Activity
As soon as you start arriving Southern Belize, you enter cacao territory. Lamanai Chocolate is owned by a Roger, an expat that does his very best to keep the traditional ways of the Mayas through its chocolate making process and use of medicinal plants.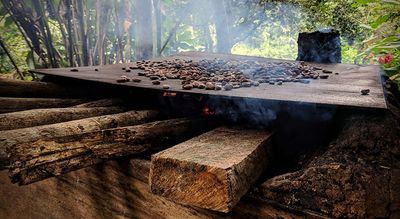 You can opt to take a chocolate making tour, a medicinal plant walk or try the delicious cacao tea and snacks available at the shop. Snacks include smoothies, ice cream, milkshakes and coffee. Cacao pairs incredibly well with banana and coconut.
Parking and restrooms are also available on site as well.
Activity
Not to be confused with the iconic Great Blue Hole, this Inland Blue Hole is a small natural sinkhole with a depth of 25 feet (8m) that is perfect for swimming. Apart from the swimming hole, there are five hiking trails available along with a guided cave tour known as Crystal Cave or Mountain Cow.
There is free parking, restrooms, changing rooms, a visitor center and a gift shop available at the site.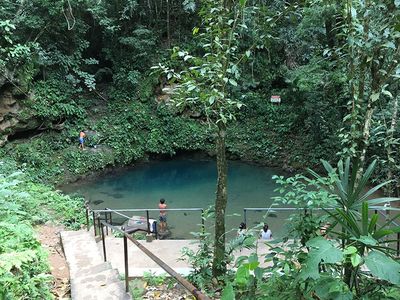 Restaurant
Known as the best tamales in Belize, Ms. Bertha's has become a natural stop for most Belizeans in the area. And recently, it's even gotten fame from foreign visitors going on road trips.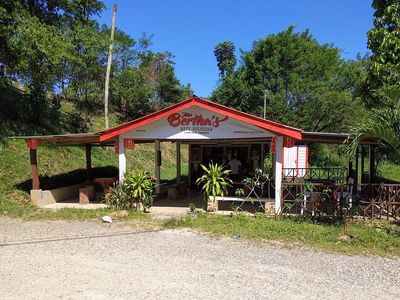 As locals, we recognize village food to be the absolute best food because it's made on a fire hearth with love. And Bertha's tamales is the epitome of village food cooked to smokey perfection in the wood stove.
If you're looking to make a pit stop, restrooms are also available on site.
Activity
Billy Barquedier can be best described as a hidden gem. Being a bit more off the beaten path compared to the Inland Blue Hole, you might get an entire waterfall to yourself here.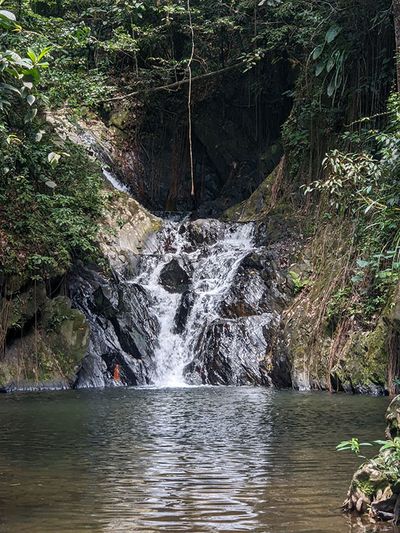 The site includes a short and easy 20-minute hike through a jungle trail filled with stoney creeks. I would recommend having good shoes for this. While the trek isn't exactly strenuous, it might be tough for toddlers.
The waterfall at the end of the trail is worth the trip and will be very similar to the waterfalls found at Cockscomb Basin.
Restaurant
If you love drinking strong coffee in a cozy and quaint café, this is your spot. The style of the house itself is worth stopping by as every inch of the site seems to be uniquely designed.
If you want to grab a bite, you can also get the local dish of chaya served with eggs.
Activity
At about 330 feet high (100 meters), Davis Falls is the second-highest waterfall in the country. While it's extremely difficult to hike the entire trail by foot (I tried and failed before), you can take a two-hour tractor ride tour and hike for roughly 40 minutes to get to the site.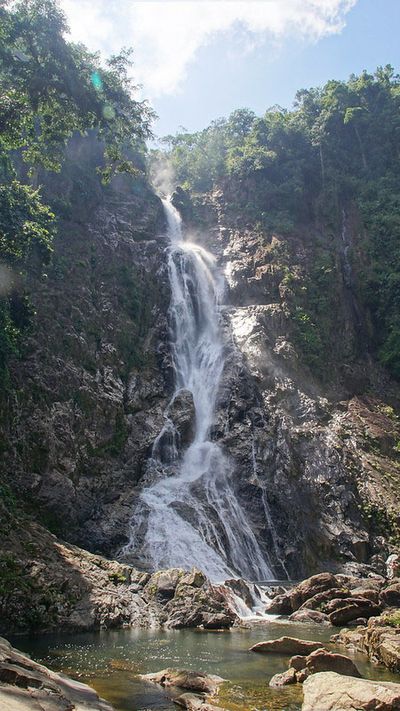 Because the site is so remote and not as well-known, it's a truly hidden gem with immaculate water perfect for swimming. No doubt, it's one of the most beautiful natural attractions in Belize.
The ride through orange orchards is wild. You get to cross various river crossings and have a chance to see what untouched nature looks like. The last time I hiked here, I found fresh jaguar and cub footprints. Your heart skips a beat after stumbling on something like this.
Activity
Besides being famous for its tamales, Belize has fame for another locally made product — it's hot sauce. Marie Sharp is every Belizean's pride & joy because it's one of the few globally recognized products.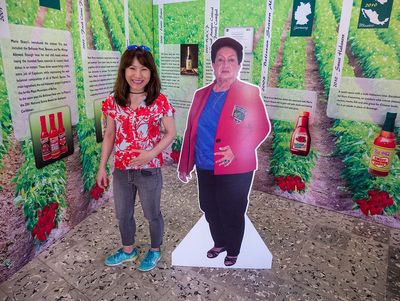 The factory tour itself will take you through the production process and shouldn't last more than 20 minutes. During the tour, you'll be able to taste-test all the hot sauces, jellies and even wines.
During the tour, you'll definitely be able to feel the pride the local workers have for their hot sauce products. Don't forget to grab a few to take home as souvenirs.
Restaurant
What would make a gas station so unique to be on this list? Local snacks and beverages of course. There are products here you'll find nowhere else in the country simply because of the location.
You can find freshly made rice & beans and other local delicacies like fry jacks on the daily. Some other local snacks include meat pies, journey cakes, coconut tarts and banana cakes. It's like snack heaven at this gas station with a Mayan name.
Restaurant
While not exactly on the Hummingbird Highway, ArtBox is at the entrance of Belmopan on the Western Highway. It's the best place to get quality souvenirs to remember your trip by. Some items include: woodwork, t-shirts, keyholders, local hot sauce and so much more.
Recently they have opened up a café at the same location, so now you can have ice cream, coffee and pastries at the site. Talk about a perfect pit stop for families.
10 Fun Stops Along The Belize Hummingbird Highway
Guanacaste National Park
Belmopan Farmers Market
Lamanai Chocolate
St. Herman's Blue Hole National Park
Ms. Bertha's Tamales
Billy Barquedier National Park
Cafe Casita del Amor
Davis Falls
Marie Sharp's Factory and Farm
Xaibel Shell Station
Frequent Questions
What can I see on Hummingbird Highway?

There are over a dozen stops you can take on the highway including chocolate farms, national parks and small local restaurants.
What are the four major Highways in Belize?

The four major highways are Northern Highway, Western Highway, Hummingbird Highway and Southern Highway.
How long is the Hummingbird Highway?

The Hummingbird highway is approximately 54 miles (87 kilometers).
How long does it take to drive the Hummingbird Highway?

If you don't stop, it takes 1.5 hours to drive the Hummingbird Highway but I recommend stopping for food, hikes and other activities which can take up the entire day.
Resources