ATM Cave Tour In Belize: Should You Do It? [2022]
Regarded by National Geographic as the #1 Sacred Cave in the World, the ATM Cave Tour combines spelunking, rock climbing, some swimming and dark Mayan history.
Having done the ATM Cave Tour a couple of times already, I can give you a detailed breakdown of the entire process to clear all possible doubts.
While this tour is on the pricey side, it's a surreal once in a lifetime experience that words on this page don't justify. But I'll still try.
Let's dive in.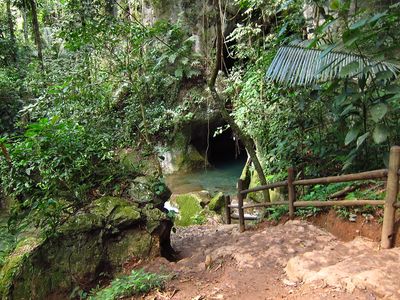 Rules
No cameras allowed, minimum height of 40" (100cm)
Essentials
Bathing suit, water shoes, change of clothes, socks
Amenities
Restroom facilities
Bathing suit
Gym shorts
Pair of thick socks
Water shoes
Life jacket
Helmet with headlight
Belizean lunch
Drive to/from park entrance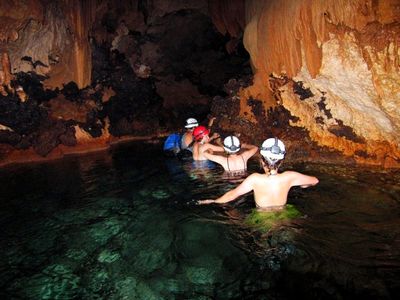 National Geographic has named it the #1 sacred cave in the world.
ATM stands for Actun Tunichil Muknal which means Stone Sepulcher.
The first person went inside the ATM cave in 1986.
The Mayan Underworld is also called Xibalba roughly meaning place of fright.
The Crystal Maiden skeleton is actually a 17-year old boy and not a female.
There are 16 human remains but not all of them can be seen.
There are over 1000 ceramic pots in the cave.
The maximium height of the cave is roughly 20ft and max width is roughly 10ft.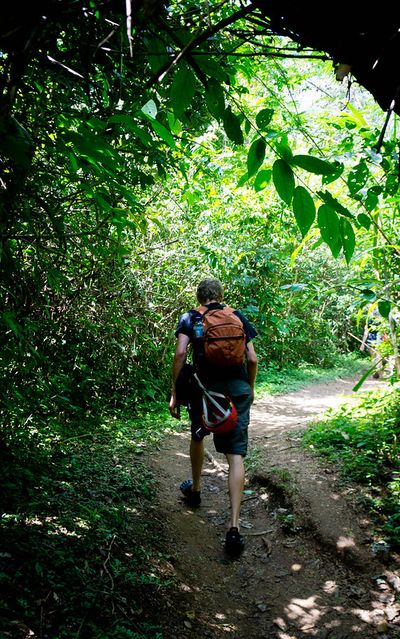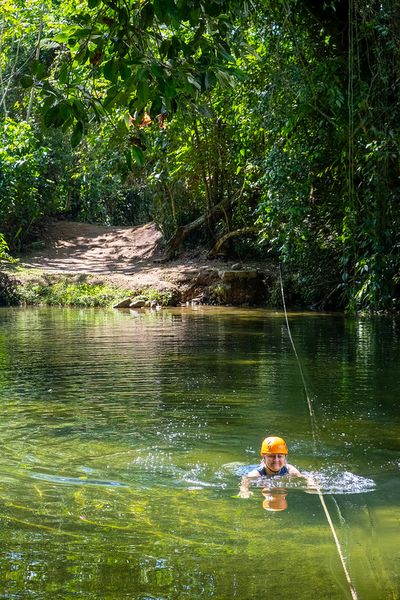 River Crossings
The 45-minute flat terrain hike includes three river crossings. The first is shoulder deep with a rope as a guide and the other two crossings are only knee-deep.
Cave Exploration
Exploring the cave includes climbing on boulders, crawling, and squeezing through tight places. The rock formations called stalactites are stunning.
Sacrificial Remains
Known to the Mayas as the underworld, the cave was a sacfificial site where sacrificial ceremonies were performed. The remains are skeletons & pottery.
My answer is a resounding yes. If you're not a swimmer, claustrophobic or scared or spiders, I think you should still do this tour.
Why? Because it's a once in a lifetime experience that will help you conquer all those fears. You also have access to a life jacket and a highly-qualified guide that has been doing this for 10+ years, so there is no excuse.
Well, technically there are some caveats. Tour companies don't recommend pregnant women, people with heart conditions, walking disabilities and those with back problems to do the tour.
But if you don't fall into any of those categories, you're all clear for a world-class spelunking adventure.
In case you're feeling uncertain or unsure whether to do this tour, this short review perfectly summarizes the tour experience giving you a good idea of what to expect.
We survived Actun Tunichil Muknal cave. It was the most challenging and adventurous thing I have ever done! I'm claustrophobic, afraid of heights and clumsy as hell. But our guide was so careful and amazing that I climbed around like a spider monkey and came out unscathed. I'm not the most physically fit - I drink, I sometimes like to smoke and if you find me running it's because I'm being chased, but still I made it! It's about 1.5-mile walk to the cave, crossing the river three times and a short swim into the cave. It was absolutely beautiful inside with crystal clear water, shimmering stalactites and formations, Mayan pottery and sacrificial remains. The history we learned was just incredible. You are in the water most of the time except for where the remains are located, and we were inside the cave about three hours. This is an absolute must-do if you come to the Cayo area! I cannot recommend it enough. You need closed toed shoes with a decent grip. I purchased keen closed toed sandals, and they were perfect. My husband and 18 year old son wore Merrell water shoes. Also wear cushy socks for when you climb up to see the artifacts.

Lisa - Atlanta, Georgia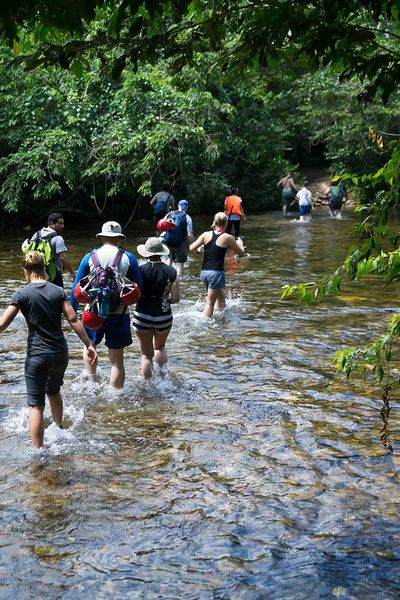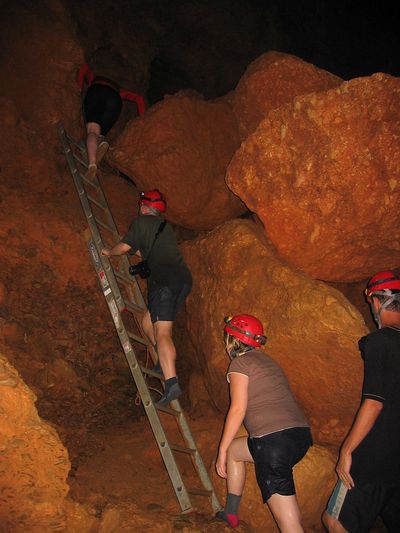 | Tour Activity | Starting Time |
| --- | --- |
| Leave San Ignacio | 8:00AM |
| Arrive national park | 9:00AM |
| Start hiking | 9:30AM |
| Enter cave | 10:30AM |
| Exit cave | 1:30AM |
| Hike back for lunch | 2:00PM |
| Arrive San Ignacio | 3:00PM |
| Tour Activity | Duration |
| --- | --- |
| Hiking to/from cave | 1.5 hours |
| Exploring cave | 2.5 hours |
| Lunch and downtime | 1 hour |
| Driving to/from site | 2 hours |
| Total Time | 7 hours |
Drive to park entrance: 45-minute drive from San Ignacio with the last 8 miles (12.6km) being dirt road.
Easy hike: 45-minute flat terrain walk through Tapir Mountain Nature Reserve which is 2 miles (3.2km).
Three river crossings: first river crossing is shoulder deep then the other two are knee-deep (depending on recent rain).
Short swim into the cave: the only part of the tour that requires swimming across beautiful turquoise water about 15ft (4.5m) in distance. A life vest is provided for non swimmers and can be used to doggy paddle across.
Stila Chamber: knee-deep water, high ceiling, stalagmites.
Ceremonial Area: where rituals were done with artifacts, adult skulls and infant skulls.
The Cathedral: largest room, tour guide will turn off lights and let you hear droplet sounds. The tallest stalagmites reach 40ft high (12m).
Ascend metal ladder: the 12ft ladder is securely tied at the top and bottom. You must enter barefooted or with socks.
Crystal Maiden: upon ascending, the room will have a skeleton of a young child called the Crystal Maiden. This is the most important room in the cave.
Exit the cave: swim out of the cave, and optionally you can do a quick dive from the boulders.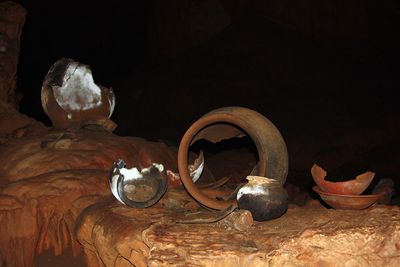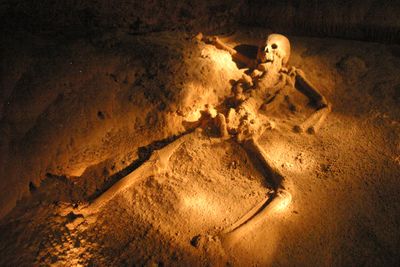 Ask for a life jacket: don't be shy to ask your tour guide for one despite being a short swim.
Food is included: if you have food restrictions, most tour companies are flexible.
Take fresh change of clothes: showers are found at the park, so you can change.
Don't wear long pants: the water temperature can get hot. Swimming suits are better.
Ask for swimming shoes: instead of buying a pair of shoes, borrow one from the tour company.
Don't worry about getting dirty: you can wash up in the end with a refreshing swim.
Take snacks: the tour guide will have a dry bag to hold any essential items.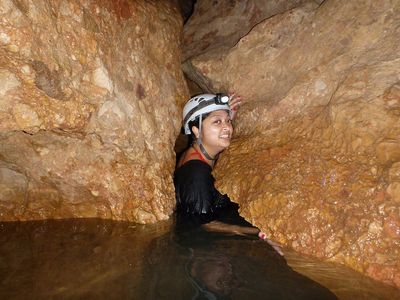 Frequent Questions
Where is the ATM Cave?

The ATM Cave in Belize is located at Seven Miles Progresso which is 45 minutes away from San Ignacio Town.
How Difficult Is ATM Cave Tour?

Tour companies rank it as moderately difficult since it involes long hours of walking, river crossings, easy swimming and some rock climbing. It is not recommended for pregnant women, persons with walking disabilities or participants with back problems.
Can non-swimmers do the ATM Cave Tour?

A life jacket is provided if you are a non-swimmer plus the swimming section is only about 15ft (4.5m) in distance. The tour guide help you for the swimming section if requested.