Should you choose the ferry or plane? Car or bus? Let's find out what transport works best for you.
Best Way To Get Around #
Choosing a best means of transport depends on your budget, time and travel plans. I recommend traveling slow to reduce environmental impact when possible.
With that said, here are a few ways to get around:
By Public Bus #
Best for experiencing local culture
Public buses are the most common way to move around Belize. Traveling is a unique experience and opportunity to see and feel the local culture.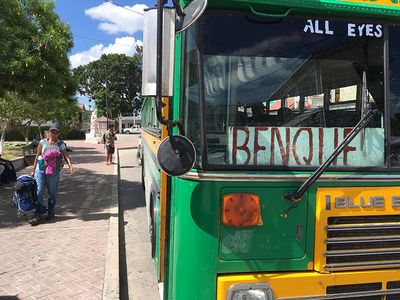 How much are buses?

$4.25USD

1 Hour Express Bus Ride

$3.75USD

1 Hour Regular Bus Ride
Bus travel tips

Always choose express buses over regular buses for faster trips
Avoid traveling on Sundays or holidays which have less bus runs
Know where to bus terminals are located to get dibs on seats
Keep an eye on your luggage since overly packed buses can be chaotic
Know the town names since some buses only have a sign of the final destination
By Taxi #
Best for short trips
Taxis are perfect for 10-minute trips like getting to your hotel or going to a restaurant. The cars are easily spotted by their green license plates.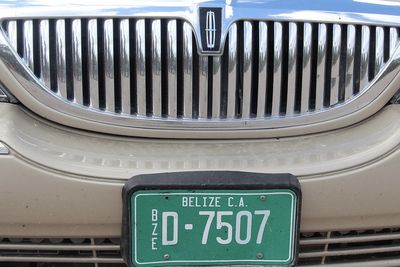 How much is a taxi in Belize?
How much is the taxi from airport to Belize City?
By Water Taxi #
Cheaper than flying
Locally known as water taxi, the ferry is the most economic way of getting to the islands. Locals travel by boat because it's a fraction of the price of a plane ticket.
How much is the water taxi in Belize?

$36USD

Belize City to Caye Caulker Roundtrip

$56USD

Belize City to San Pedro Roundtrip
Water taxi tips

Tourists are charged double so get a local to buy your ticket if possible
Purchasing round trip tickets is roughly 20% cheaper
Know what time your flight gets in since last boat leaves at 5:30 PM
Tickets are valid for three months after purchase
Board the vessel early to pick a good seat
Passengers can board earlier boat trips at no extra cost
Choose larger water taxi companies for more comfortable boat rides
Purchasing tickets online have an 11% processing fee
By Car Rental #
Best for exploring reserves
If you plan on exploring national reserves like Mountain Pine Ridge, renting a car can be cheaper than taking a tour. Keep in mind that Belize has high car rental fees and ridiculously high gas prices.
How much does it cost to rent a car in Belize?

$35USD

Per day for weekly rental

$75USD

Per day for standard rental
Do you need a car in Belize?

If you have a limited time and plan on visiting natural reserves like Mountain Pine Ridge, renting a car is a good idea. Given the entire country can be traveled in less than six hours, having a car is a superior means of transportation.

Keep in mind that both car rental rates and petrol/gas are expensive. Cars are also not allowed to be transferred to the islands by ferry.
Popular car rentals
By Private Shuttle #
Best for large groups
Shuttles are expensive compared to renting a car but can be convenient if you're traveling with a large group or family. It can also save you time if you're on a tight schedule.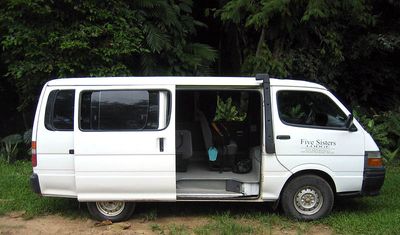 Popular shuttles
By Hopper Plane #
Best for fast trips to cayes
Also known as puddle jumpers by tourists, these tiny planes take you across the country in a fraction of the time. They also fly to Mexico, Guatemala, Honduras & El Salvador.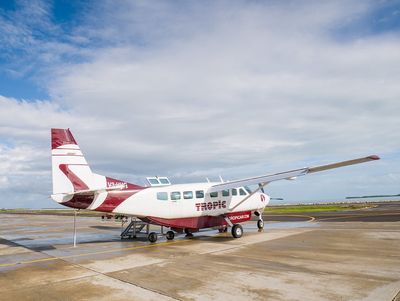 How much does it cost to fly in Belize?

$75USD

Pre-Purchased One Way Ticket

$150USD

Standard One Way Ticket
Popular airlines

Maya Island Air - only offers flights within Belize.
Tropic Air Belize - offers flights within Belize and even international flights to Mexico, Guatemala and Honduras.
This site is proudly ad-free which means bias-free opinions & suggestions. Your kind support helps keep it running.