13 Fun Things To Do In Hopkins Belize [2022]
Hopkins is more than just the cultural capital of Belize. Less than an hour away is the world's first jaguar preserve, stunning hiking trails and pristine waterfalls.
The heart and soul of Hopkins is the Garifuna people. The combination of friendly locals and being surrounded by over a dozen natural attractions is worth making Hopkins a home base.
To take advantage of this area of Belize, I highly recommend renting a car because most of the attractions outside the village and are not accessible by bus. I also included some fun & free activities available within walking distance of the village.
Let's take a look at some of them.
Paid Activity
40 mins from Hopkins
When asked to recommend a place in Belize, my first answer is almost always Cockscomb Basin. It's the world's first ever jaguar sanctuary. The reserve is filled with over a dozen hiking trails including the highest point in Belize, Victoria Peak. There are also small waterfalls at the end of two trails.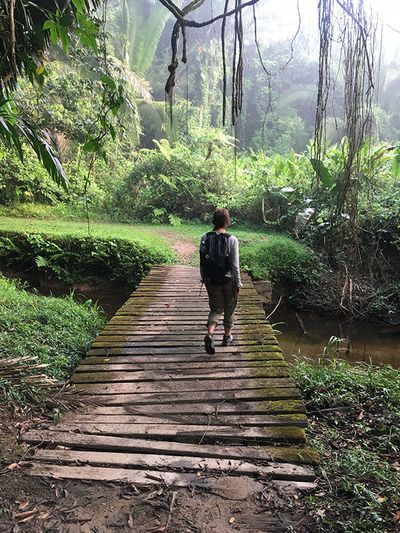 Paid Activity
Within walking distance
Hopkins is a favorite place for many travelers because of the people and the Garifuna people can cook! Some of the tastiest food in Belize are actually Garifuna dishes.
Two well known Garifuna dishes are Hudut and Boilup. Most of the Garifuna cooking classes will show the entire process of the dishes prepared in an authentic way.
You can take cooking classes by booking a tour through a resort, finding a tour on Airbnb or simply asking a local to give you a class. Restaurant owners like Chef Gloria from Tugucina Gloria would be more than happy to arrange a class for you.
Free Activity
15 mins from Hopkins
Sittee River is both a river that runs inland from the East coast and a tiny village. I recommend grabbing a pair of binoculars and do some birdwatching in the village. Early mornings and late evenings are the best for spotting some beautiful birds like King Fishers.
We went driving, but you can go on bike or motorcycle. I would just avoid going too late because mosquitos are wild around the river with mangroves in the area.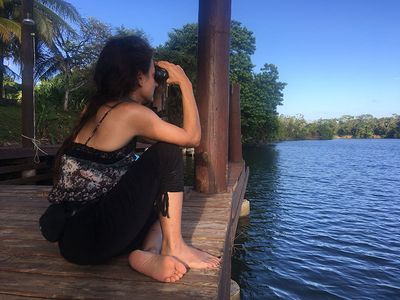 Paid Activity
40 mins from Hopkins
Being a small coastal village at the cost, Hopkins is a perfect launching point for the nearby cayes. There are tours that go caye hopping to up to three locations including Tobacco Caye, South Water Caye, Bread & Butter Caye and a few others.
Snorkeling at these small cayes gives you an opportunity to spot incredible wildlife like manatees, sting rays, turtles, dolphins and a lot more. For more information on the tours, get in touch with Funky Dodo Hostel.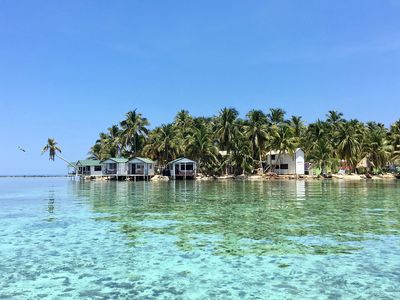 Paid Activity
20 mins from Hopkins
If you know nothing about butterflies, you'll walk out as a guru after your trip around this butterfly farm. Their farms have upwards of 3000 butterflies which can be a fun experience for a family with kids. We were three grown adults and had a lot of fun having Javier and his worker explain the caterpillar's complete lifecycle.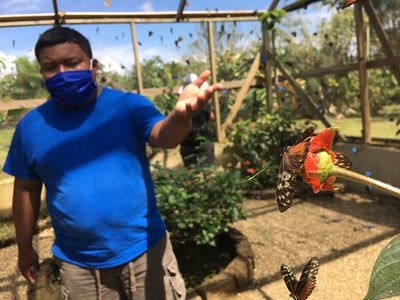 Location: Maya Center
Hours: 7AM—5PM daily
Price: $12.50 USD Adults, $5.00 USD Kids
Paid Activity
20 mins from Hopkins
While on the road to Cockscomb Basin, we stumbled on this little chocolate factory called Che'il Mayan Chocolate. They offer farm tours that show the entire chocolate making process from the start to finish.
They also sell cacao products in their store including chocolate bars, cacao butter, cacao powder and cacao nibs. It makes for a perfect gift for a loved one back home.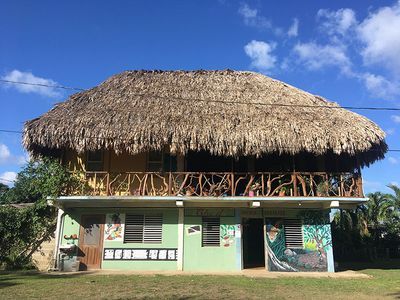 Location: Maya Center
Hours: 7:30AM—5PM daily
Price: $15.00 USD per person
Paid Activity
40 mins from Hopkins
The triple waterfalls found at this site is magical. I can't believe I have lived all my life in Belize and had never visited this place. To get here you'll definitely want to be in a car. After reaching the Mayan King Monument, you'll have to take a 4km ride into the ranch where you'll pay the entrance half-way to the destination.
The pool of water at the waterfall is possibly the cleanest and clearest water I've seen in Belize. It's pristine and refreshing especially on a hot day. You don't want to miss out on this place.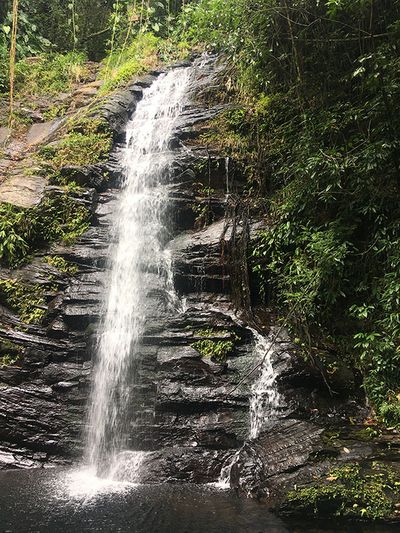 Paid Activity
30 mins from Hopkins
Bocawina National Park is famous for waterfall rappelling, but there's much more to do than just that. There's a handful of trails suitable for experienced hikers and for families with toddlers.
Waterfalls at the park include Antelope Falls, Big Drop Falls, Bocawina Falls, Peck Falls and Three Sisters Falls — each with their own charm. In addition to waterfalls, you can find Mayan sites.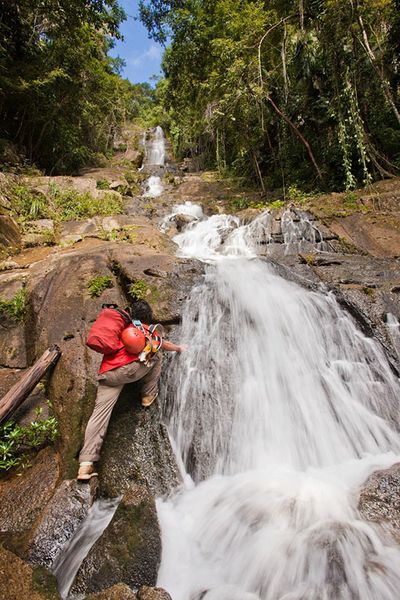 With that said, the fauna is rich with over 300 species of birds and animals like the tapir, jaguar, kinkajou and lot more.
And if you end up getting hungry after a whole day of adventure, you can find a restaurant called Wild Fig Bistro & Bar at the resort which happens to serve vegetarian options.
The best way is by renting a car or motorcycle. Alternatively, you can hire a taxi driver at the village which might be expensive, or you can join a tour.
Unfortunately buses don't go to the national park and the distance to walk is roughly 6 miles (10km) so that's about two hours of walking through plantations with little shade.
Location: Atla Vista
Hours: 8AM—4PM daily
Price: $5.00 USD per person
Paid Activity
20 mins from Hopkins
If you decided to visit Sittee River, you're already half-way there. This site is the country's first historical reserve and now a museum with remnants of the first steam-powered sugar mill.
The mill was established in 1865 which marked the start of Belize's Industrial Era.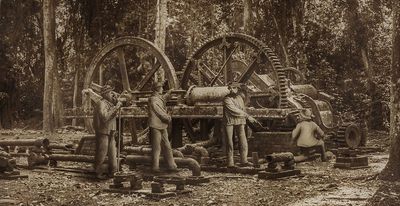 Paid Activity
Within walking distance
This is the largest gift shop in Hopkins packed with handcrafted gifts made by the Garifuna and Maya people. The prices are also affordable compared to other more touristy sites.
Some interesting souvenirs you'll find here include paintings, wood carvings, clothing, custom-made Garifuna drums, jewelry, hammocks and other locally made items. I can't guarantee that all items are made in Belize especially the hammocks and Maya items which are notoriously shipped from Guatemala for pennies.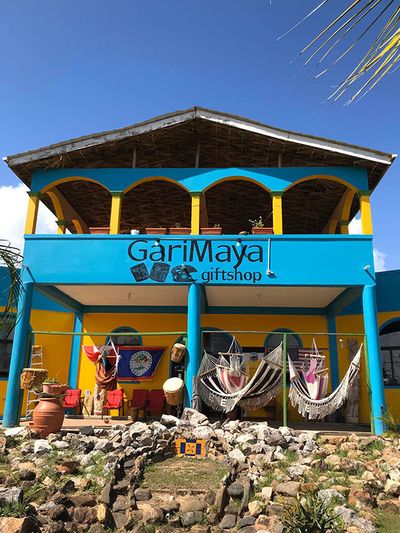 Free Activity
Within walking distance
I make fun of the local tourism sector exploiting the Garifuna's drumming in their marketing content, but the truth is, the sounds are extremely catchy. A couple of years ago, I helped my Dutch friend find a local drum maker to teach her to make a drum from scratch. That became her favorite memory of Belize.
The drumming is famously heard at Driftwood Beach Bar & Pizza Shack. We were lucky enough to hear it even during the pandemic. If you have more time and love drumming, find someone to help you make a drum like my friend did.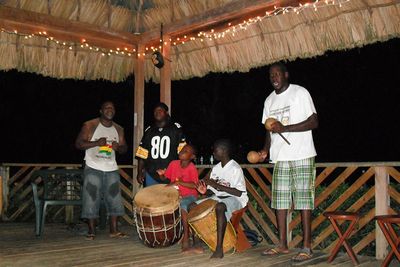 Free Activity
Within walking distance
The village has one paved road only, the main road. The rest are dirt roads where the locals live. And that's where you'll meet the Garifuna people living their daily lives. They are genuinely friendly folks and incredibly easy to chat with.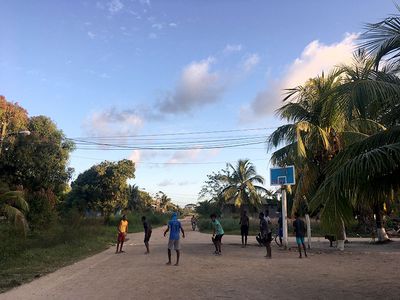 Location: All the back roads
Price: Free
Free Activity
Within walking distance
The first time I ever visited Hopkins was for Garifuna Settlement day, and it was a beautiful sunrise with the reenactment of their arrival by canoe. It was senses overload watching a scene like this with local drums playing and singing in their language.
On any other day, you can still wake up early and enjoy sunrise by the beach or dock. Maybe you can even grab a cassava/coconut flavored ice cream from Nice Cream while you're at it.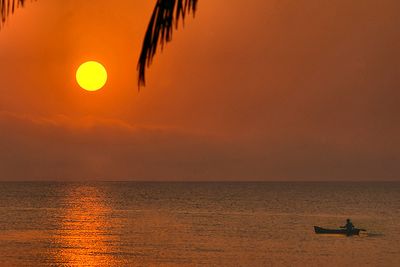 Location: Any Beachside
Hours: Always Open
Price: Free
13 Fun Things To Do In Hopkins Belize
Cockscomb Basin Wildlife Sanctuary (Paid)
Garifuna Cooking Class (Paid)
Birdwatching At Sittee River (Free)
Snorkel At Nearby Cayes (Paid)
Ya'axkin Butterfly House (Paid)
Che'il Mayan Chocolate Tour (Paid)
Maya King Waterfall (Paid)
Mayflower Bocawina National Park (Paid)
Serpon Sugar Mill (Paid)
Shop At Garimaya Gift Shop (Paid)
Listen To Live Garifuna Drumming (Free)
Meet The Local People (Free)
Enjoy Sunset/Sunrise (Free)