Belize Travel Tips For First Time Visitors [2022]
After talking to many travelers that visited Belize, these were the top 10 practical and helpful tips that made everyone's trip that much easier.
Have all your paperwork done: verify your passport expiration and have notarized forms for your children if you are traveling without your spouse.
Dress like you are broke: so you don't get overcharged by the locals. This is especially common in touristy areas.
Pack carefully: give priority to items specialty food or medication. Belize doesn't have big stores like Walgreens or Walmart. I suggest a packing list further below this post.
Bring cash: cash is king and US dollars are accepted countrywide but make sure you bring small values since large values can sometimes be rejected at stores. Make sure they are not torn because those are not accepted either.
Know the prices: Belize can be expensive so have a rough idea of what things cost. Tours are the most expensive part of your trip, so it's a good idea to prioritize. Plane rides and shuttles can be expensive. Boat rides and buses are both safe and cheaper.
Choose the best time to travel: prices are cheaper during the shoulder and slow season. While you're at it, look at the calendar of events to see if there's something that interests you.
Don't prebook any tours: it's really not necessary, and it may be more expensive booking online. You can easily do walk-ins for adventure and snorkeling tours.
Buy food at midday: restaurants & street food in Belize are not like big chain American restaurants. They close as soon as their food is done. Also, expect most places to be closed on Sundays.
Watch out for speed bumps: many are not marked especially on the highway. Some of them can also be dangerously high and cause damage to your car rental so keep your eyes on the road.
Don't depend on weather apps: weather in Belize is fickle. Try not to plan your weather apps because rain only lasts for short bursts, and it mostly pours at night. Throw all that out the window if there's a tropical storm on the way though.
---
This might be tough to accept for U.S. Americans and Canadians but tipping is mostly North American culture. Locals don't tip so you are free to do as you please.
Belize is much safer than the media paints it to be. Most violence occurs due to gang rivalry. With that said, if you're a solo female traveler, be aware that catcalling is common so take precautions.
---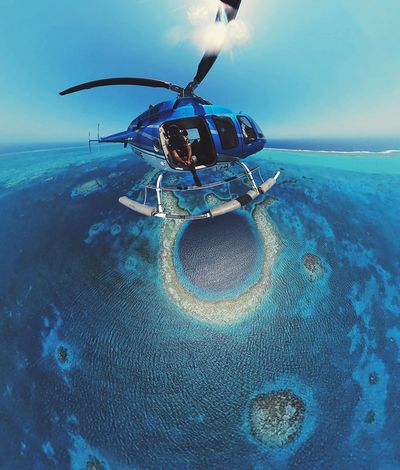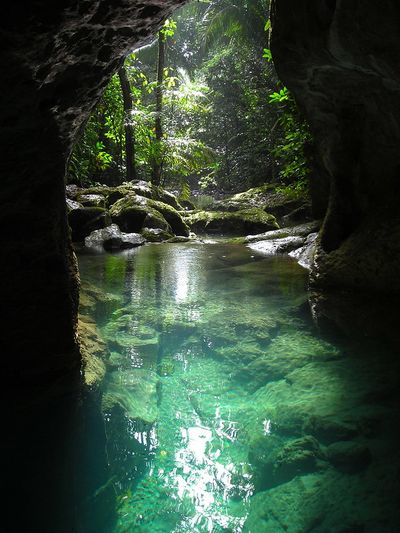 As a regular trip host on Airbnb & Couchsurfing, these are the top 10 questions I get all the time.
1. What is Belize known for?

Belize is best known for its reef, rainforest & ruins. It's home to the largest sink hole, The Great Blue Hole and a UNESCO World Heritage Site, The Belize Barrier Reef system.

It hosts the first and only jaguar preserve, Cockscomb Basin Wildlife Sanctuary, and it also hosts several Mayan Archeological sites like the world-famous ATM Cave and a dozen major Mayan Ruins.

The country is also the only English-speaking country in all of Central America and is a melting pot of contrasting cultures with their own food and languages.
2. When is the best time to visit Belize?

In general, the best time to visit is shoulder season which is either between December & January or May & June. The Shoulder season is the period between high and low season. Prices tend to be lower than high season and the weather tends to be better than low season also known as rainy season.
3. What do you recommend packing for Belize?

Honestly, I would say the better question is what not to pack. Belize is very relaxed and warm almost all the time so you might want to leave your long sleeve shirts and long pants at home.

Some stuff you definitely want to pack include:

Natural bug spray
Reef friendly sunscreen
Flip flops
Sneakers with grip
Sunglasses
Dry bag for water activities
Enough cash for food
4. What are some fun things to do in Belize?

Normally I recommend travelers to do something related to the reef, rainforest or people.

Reef: go snorkeling, scuba diving or sail on a catamaran for a few days.
Rainforest: explore Mayan caves, chase some waterfalls or climb Mayan ruins.
People: take a Mayan cacao tour, Garifuna drumming lessons or a local cooking class.
5. What's the best way to relax for the day?

The best place to relax for a day is on an island like Caye Caulker where the motto is go slow. It can also be one of the many small cayes in the north or southern coast. Kayaking around the island is also very meditative.

If you're not a fan of the water or beaches, you can opt to stay at an eco lodge or jungle accommodation where you can spend your day relaxing to the sounds of birds and wildlife. Staying in the outskirts of San Ignacio is a good idea to keep adventure activities accessible.

While I'm not sure of the ethics of horse back riding, it is a popular tour in Western Belize. Some companies offer this tour to Mayan Ruins like Xunantunich.
6. What do you recommend for adrenaline junkies?

The ATM Cave Tour is the first thing that comes to mind. If you want to be Indiana Jones for the day, this is the activity for you. Bocawina National Park is also famous for waterfall rappelling.

For an off the beaten path experience, you can try mountain biking to Mountain Pine Ridge or hiking the second largest waterfall in Belize, Davis Falls. Hiking and camping in this area was one of the most hardcore experiences I've had in the entirety of Belize.

And then there's the tallest mountain in Belize called Victoria Peak which probably tops all of the above.
7. And what about best places to see wildlife in Belize?

For birding, Sittee River, Crooked Tree, Spanish Lookout and Mountain Pine Ridge are some of the major hotspots recommended by Birders.

For wildlife, I highly recommend Cockscomb Basin. While I haven't spotted a jaguar yet, I have seen trails and scratch marks which is exhilarating. The Rio Bravo Conservation Area is also known to host an incredible amount of wildlife.

In general, Reserves are rich in wildlife. I would recommend staying at a nearby eco lodge for a few days to increase your chances of spotting animals in the wild.
8. What is a traditional food in Belize?

The national dish in Belize is Rice & Beans, chicken and salad. And that's exactly how locals say it. This is very similar to neighboring Central American countries. In fact, Costa Rica has a similar plate called Gallo Pinto.

Belize's national dish is unique because the white rice is cooked with coconut milk. The best Rice & Beans is cooked on a fire hearth which gives it a smokey flavor.
9. What other dishes is Belize known for?

Other common Belizean dishes and food include: fry jacks, johnny cakes, tamales, escabeche, chirmole, panades, salbutes, garnaches, hudut, cowfoot, boilup and salpicon.
10. Should we rent a car or use a taxi service?

If you prefer self guided tours, renting a vehicle is both more cost-effective and offers flexibility to explore. Keep in mind both fuel and car rental are expensive in Belize when compared neighboring countries.

Taxi service is a better choice for shorter distances within a city or town. I recommend using taxi service for short strips to the bus station, your hotel or a nearby attraction.