Belize Gold Standard Requirements: Know the Facts
Updated 2 min read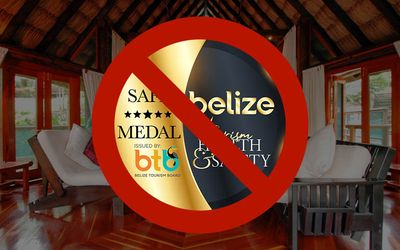 Jump to section
If you'd still like to book a gold standard hotel, skip to the cheapest gold standard hotels section.
Because of the pandemic, Belize created a new Tourism Gold Standard program where the main goal was to enhance safety and health within the tourism industry.
But, in my opinion, it has evolved into a type of tourist trap.
Staying at gold standard hotels is not required. The 3-night minimum stay has been lifted. You are now free to stay at any airbnb, hotel or hostel — most of which are already gold standard.
Here is a quote from the official tourism site.
International tourists are recommended to book a stay at BTB approved hotels.

Belize Tourism Board
What's more, there is no way for the tourism industry to track you after you have arrived.
As of Feb 15, 2022, it is mandatory to purchase travel health insurance. This can be purchased for $18.00 USD either online or while entering Belize.
No. This is a quote from the official tourism website's FAQs section.
It is recommended that Foreign Tourists utilize certified Gold Standard transport operators.

Belize Tourism Board
Read Mexico Border Crossing for detailed instructions.
If you still want to play it safe, here's the filtered list of the cheapest Gold Standard Hotels. Prices fluctuate depending on high or low season. High season is between 1st November and 31st May.
All accommodations listed are private rooms that sleeps two people for the nightly price.
Hostels may offer lower prices for shared dorms.
This site is proudly ad-free which means bias-free opinions & suggestions. Your kind support helps keep it running.