Mexico Belize Border Crossing: What To Expect in 2022
Updated 5 min read
Jump to section
Land borders between Mexico and Belize are now open for travel with a limitations.
This guide will show you the cheapest, fastest and most flexible way of crossing the border.
Skip to Corozal to Chetumal Border Crossing if you're making the reverse journey.
There are three ways of crossing the border from Chetumal to Belize.
There is now a bus service that runs between Mexico and Belize called OTillett. It is stationed at Nuevo Mercado Bus Station, Chetumal.
| Chetumal | Corozal | Orange Walk | Belize City | Days of Operation |
| --- | --- | --- | --- | --- |
| 12:00 Midday | 1:00 PM | 2:30 PM | No Bus | Mon — Sun |
| 12:30 PM | 1:30 PM | 3:00 PM | 4:30 PM | Mon — Sun |
Read Belize Bus Schedule for a complete list of daily runs.
More info
From the ADO Terminal in Chetumal, find a taxi driver outside the terminal and ask him for the cost of the trip to the Belize Border. He will likely quote 300 MXN Pesos but the price is 150 MXN Pesos.
Recommended taxi drivers

The trip from Immigration Office to Corozal Town will set you back $25.00 USD ($50.00 BZD) for the 15 minute drive.
Next, take another taxi from Mexico Border to Belize Border,
After the taxi driver drops you off at the Belize Checkpoint Office, you can take one of the taxis available for $30 USD ($60.00 BZD). If there are other travelers, you can share a taxi and split the cost with them.
More info

Directions: Open Map
Price: 150 MXN Pesos
First, take a bus from the center of Chetumal for 12 MXN Pesos to a region called Subteniente López, Santa Elena. Make sure you tell the driver you are stopping at the new border since the old border is not available for entry at the moment.
From here, you'll have either walk a bit given the bus doesn't take you to your exact location or bargain with a taxi in the area.
More info
The Mexican taxi will take you to two Mexican Immigration stops — luggage checkpoint and passport stamping. If you were in Mexico for more than 7 days, you will be required to pay a DNI Fee (Derecho de No Inmigrante) of $30 USD which is approximately 600 MXN Pesos depending on exchange rate.
More info about DNI Fee

DNI is an entry fee that must be paid to the Mexican Government by all foreign nationals, including Belizeans who enter Mexico by air, road or sea, in the following cases:

Tourists staying in Mexico more than seven (7) consecutive days.
Transit travelers with destination to a third country regardless the time need for their transit. This includes those who enter Subteniente Lopez, Chetumal, by road and whose purpose is to board a flight in Cancun to travel to another country, as well as those arriving to Cancun towards Belize.
Holders of the border card FMVL (Forma Migratoria de Visitante Local) that remain more that 3 (three) consecutive days in Mexico. This fee is payable in addition of a sanction for violating the permitted period allowed under the FMVL status. FMVL holders are reminded that they can only stay in Quintana Roo for no more than 3 (three) consecutive days.
As of Feb 15, 2022, you'll be charged a mandatory $18.00 USD ($36.00 BZD) travel insurance fee.
A covid test is priced at $50.00 USD ($100.00 BZD) which can be paid by credit card or cash.
If you plan on leaving Corozal immediately and head towards the cayes, you have two options:
Take the bus to Belize City - from the Corozal bus terminal, take the chicken bus to Belize City for $5.00 USD ($10.00 BZD). Then take a taxi to the ferry terminal at approximately $5.00 USD ($10.00 BZD). You can also walk to the water taxi which takes roughly 15 mins. The ticket to the San Pedro from Belize City cost approximately $54.00 USD ($108.00 BZD) roundtrip per person.

Take a direct ferry - taking a water taxi from Corozal shaves off 2 hours of travel time for the same cost. There are two ferries that go to San Pedro, Caye Caulker and Sarteneja. Thunderbolt Water Taxi leaves Corozal at 7:00 AM daily and Belize Sea Shuttle leaves Corozal at 3:00 PM five days a week. The municipal peer — where you catch the water taxi — is only a 6-minute walk from the bus terminal. Both these ferries take you to San Pedro but you can take another ferry to Caye Caulker which is available every 2 hours roughly.
Read common water taxi routes for more information.
There are two official crossings between Mexico & Belize: the Old Border & New Border.
The New Border is used for official crossings but the Old Border can only be used to exit Belize at the moment.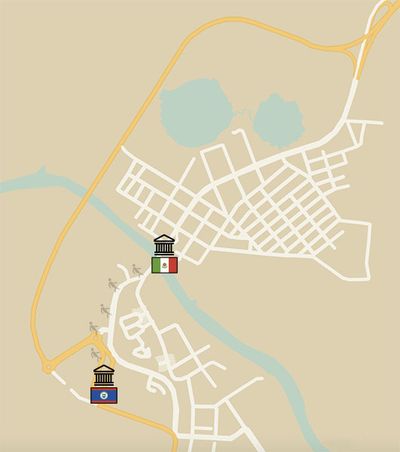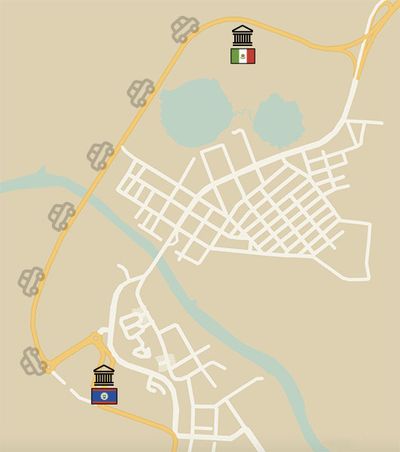 Let's take a look at two ways to cross to from Belize to Mexico.
Starting from the Corozal bus station, take a shared taxi (colectivo) to the Belize Border for $1.00 USD ($2.00 BZD). These small vans take employees to the Free Zone which is close to the border. A private taxi will set you back roughly $12.50 USD ($25.00 BZD).
More info
There is now a bus service that runs between Mexico and Belize called OTillett.
| Belize City | Orange Walk | Corozal | Chetumal | Days of Operation |
| --- | --- | --- | --- | --- |
| 6:00 AM | 7:30 AM | 9:00 AM | 10:00 AM | Mon — Sun |
| No Bus | 6:30 AM | 8:00 AM | 9:00 AM | Mon — Sat |
Read Belize Bus Schedule for a complete list of daily runs.
If you stayed in the country for more than 24 hours, pay your departure fee of $20.00 USD ($40.00 BZD).
After walking across the bridge, head towards the Mexican Immigration building which is on the right after getting off the bridge. After Immigration, walk towards the customs area to check your bags.
Alternatively, you can call one of the same recommended taxi drivers listed before.
If Chetumal is your final destination, you have two options:
The first is to take a taxi to the ADO Terminal for approximately 150 MXN Pesos.
The second is a long ride. You take a local bus in the same taxi area for roughly 20 MXN Pesos to the city center and then take another taxi to the ADO Terminal for another 20 MXN Pesos. If you have heavy bags, this might not be a good choice.
And if you plan on going to Bacalar, you can negotiate with a taxi driver. My friends have gotten the ride for 300 MXN pesos which seems fair given it's twice the distance as the center of Chetumal.
More info

Directions: Open Map
Price: 150 MXN Pesos
This site is proudly ad-free which means bias-free opinions & suggestions. Your kind support helps keep it running.