7 Local Restaurants In Caye Caulker Belize: Vegan Friendly
The cayes can be expensive compared to the mainland, but it doesn't have to be. Small & local food stalls are cheaper, more authentic and even healthy.
For more options, check out all the Belize Vegetarian & Vegan Restaurants hand-picked by the local veggie lovers.
Location: Pasero Street
Hours: 6:30AM—11AM daily (Closed on Mondays)
Price: $1.50 USD per serving
Before this small shack was famous on trip advisor, only locals bought food here. I ate here because it was the cheapest place to eat at the caye. It has the Belizean staple of fry jacks stuffed with refried beans and other goodies. It's very oily and calorie-dense but tastes really good!
Keep in mind this place opens super early and closes before midday. It's perfect grab & go breakfast for the ferry ride back to the mainland.
Location: Pasero Street
Hours: 7:30AM—2:30PM daily (Closed on Sundays)
Price: $2.00 USD per serving
Website: Namaste Cafe
Amenities: Wifi, Accepts Credit Card
This was the first cafe that caught my eye when I arrived the caye. It's not the cheapest, but it offers good plant-based options including puddings, sandwiches, salads and even hummus! As a bonus, they are eco-friendly and even offer donation-based yoga classes daily.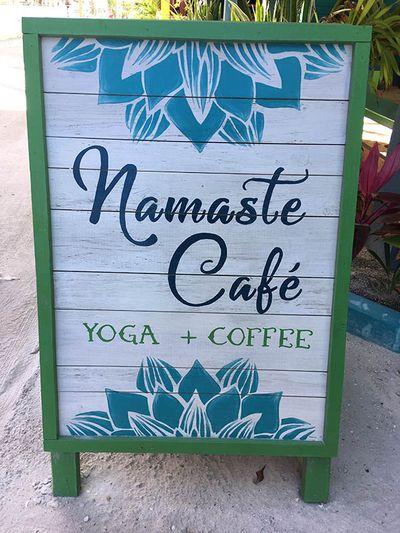 Location: Avenida Hicaco, Belize
Hours: 8AM—3PM daily
Price: $10.00 USD per serving
Website: Juice Dive
I got a chance to try the Impossible Burger at Juice Dive, and man, it was spectacular. I felt guilty eating this meaty burger as a vegan.
Location: Front Street
Hours: 11:30AM—5PM daily
Price: $10.00 USD per serving
The guy that runs this small food stall was so chill that we stayed to chat with him and ended up coming back to try his food.
Unfortunately it's not the cheapest with prices starting at $6.00 USD all the way up to $12.50 USD, but the experience was authentic. I just wish they didn't use foam plates and plastic cutlery.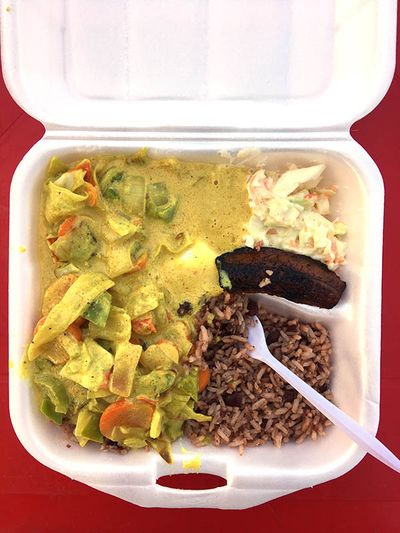 Location: In front of the basketball court (Main Street)
Hours: 6PM—10PM daily
Price: $1.50 USD per serving
Everywhere I go in Belize, I try to find pupusas, and I'm glad it's also sold in Caye Caulker.
They also sell burritos and will sell you huge handmade tortillas for $0.50 each in case you want to make your own burrito at home. I don't think there's anything tastier than fresh flour tortillas made on a hot grill by latin women.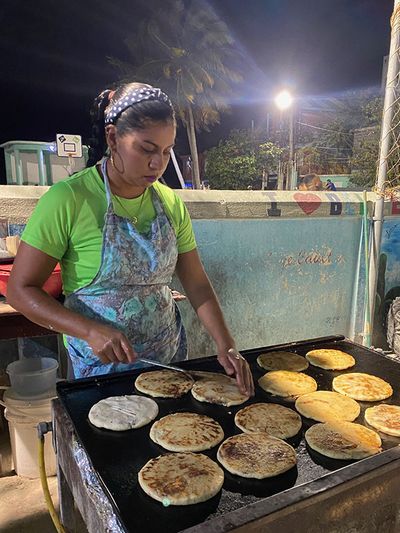 Location: Main streets
Hours: 8AM—5PM
Price: $1.50 USD per serving
Since the whole pandemic started, many of the locals have turned their homes into fast food shacks and fruit & vegetable stands. Just look for a small food stall with handwritten menus on a chalkboard with a small table at the front. Explore the backstreets as well instead of the touristy front streets.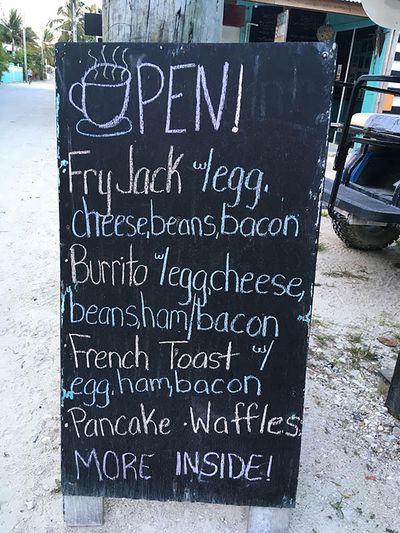 Location: On the main streets
Hours: 2PM—10PM daily
Price: $1.50 USD per serving
While at the caye, you'll see many vendors selling pastries on bicycle. A famous vendor is Cake Lady, and it's even marked on trip advisor that way. If Cake Lady doesn't have coconut products, you'll find other vendors on bikes selling banana cakes and other sweet treats.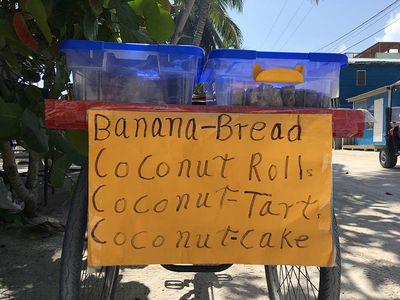 7 Local Restaurants In Caye Caulker Belize
Errolyns House of Fry Jacks
Namaste Cafe
Juice Dive
Chef Kareem's UnBelizeable Lunch
Pupusas Lady
Small Food Shacks
Food Carts