5 Local Restaurants In Belize City: Vegan Friendly
As the commerce capital and the travel hub for the country, Belize City has very good options for vegan restaurants. A few are just a short walk away from the ferry terminals.
For more options, check out all the Belize Vegetarian & Vegan Restaurants hand-picked by the local veggie lovers.
Location: 10 Fort Street
Hours: 7AM—8PM (Closed Mondays & 8AM—3PM Sundays)
Price: $10.00 USD per serving
Website: Martha's Cafe
As one of the few fully vegan restaurants in Belize City, this places is perfect but at the cost of also being the priciest. Then again, you get are paying for the location and the sea view.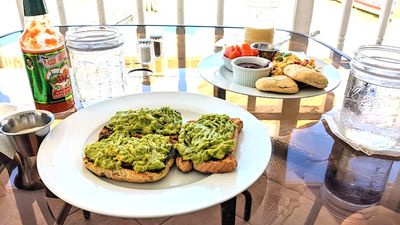 Location: Baymen Avenue
Hours: 11AM—9PM (Closed Mondays)
Price: $15.00 USD per serving
Website: Sumathi
This restaurant serves traditional Indian food which is extremely popular among local Belizeans in the city. Dishes are buffet style and relatively expensive compared to most veggie friendly restaurants. Buffet dishes doesn't translate to free refills at this place.
Besides that fact, the food is very good with large portions. There is outdoor seating available since it gets warm inside.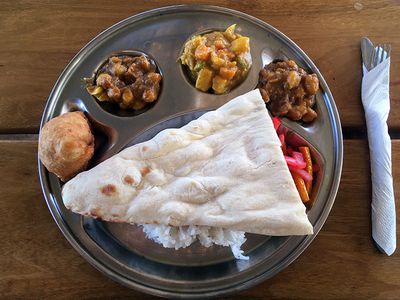 Location: 13 Cork Street
Hours: 12Noon—10PM (Closed Tuesdays & 9AM—4PM on Sundays)
Price: $6.00 USD per serving
Website: 501 Hub
This hidden gem of a restaurant serves a mix between Caribbean and Traditional U.S. American cuisine. It reminds me of those little hip restaurants at in modern cities like Medellín. It has a veggie-friendly menu with a very friendly staff.
Location: BTL Park Kiosk 16
Hours: 12Noon—3PM (Closed Sundays & 7AM—10PM Saturdays)
Price: $15.00 USD per serving
Website: Vegan Bites
Vegan Bites is a small fully vegan food shack located at BTL Park which sits by the seaside. The owner serves buffet-style vegan food that is actually nutritious with options like tofu vegan curries, steam broccoli and local seasonal veggies and fruits like callaloo & breadfruit.
Worth noting is that the price is quite expensive for it to be a shack, and I'm not a big fan of the food served in a styrofoam. But I'm still grateful this place exists in my little country.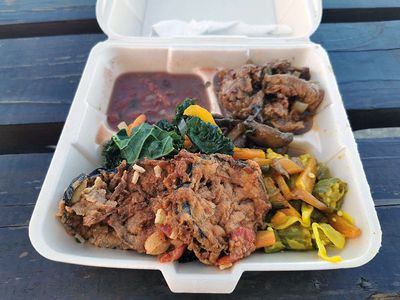 Location: 7 Eve Street
Hours: 10AM—4PM (Closed Weekends)
Price: $7.00 USD per serving
Website: Ma Ma Chen
This restaurant is a little gem in Belize City. It's only a 7-minute walk from the water taxi terminal (500 meters) so you can grab lunch while you wait for the ferry. Meals include food like vegetarian lunch boxes, dumpling soups, spring rolls and veggie sushi.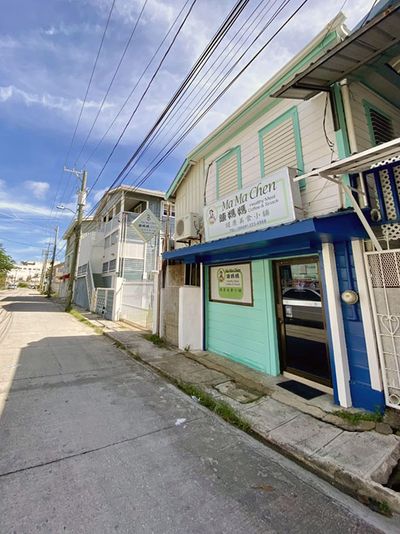 5 Local Restaurants In Belize City
Martha's Cafe
Sumathi Indian Restaurant
The 501 Hub
Vegan Bites
Ma Ma Chen