Belize is a unique country compared to its Central American neighbors. As a local, here's what I think every tourist visiting Belize should know.
1. The Country Isn't Dangerous #
Don't fall for the clickbait headlines claiming Belize is super dangerous.
Because tourism accounts for 40% of the total GDP, almost everyone has a family member working in the tourism industry. That means we don't bite the mouth that feeds us.
Sure, some areas in the south side of Belize City are hostile after dark but that's mostly between gang members. If safety is a high on your priority list, visit the more touristy areas.
2. Speed Bumps Rarely Have Signs #
Unfortunately Belize isn't very good at labeling speed bumps.
If you're planning on renting a car, I recommend driving slowly when exiting and arriving small villages. That's where the speed bumps catch you by surprise.
3. Belize Can Be Expensive #
With fuel prices 50% higher than Mexico, things can be expensive in Belize. The bulk of the tourism comes from U.S. Americans which means everything is priced in USD.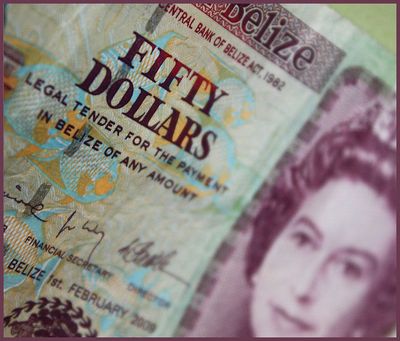 But don't let high prices scare you off. If locals can live on the cheap, you can too.
Money-saving tips & tricks

Eat what the locals eat - street food is cheap, tasty and found in every city/town center.
Use public transportation - buses are very economical compared to shuttles and flights.
Stay at airbnbs or hostels - resorts and hotels can be expensive.
Limit number of tours - compared to neighboring countries, tours can be twice the price.
Buy inland to take to islands - get your groceries inland to save a big chunk of money.
Travel during low season - rates are cheaper for low season slashing prices as much as 30%.
Cost of common products & services

| Product/Service | Cost |
| --- | --- |
| Street Food | $2.50 to $5.00 USD |
| Public Transport | $2.50 USD per hour of transport |
| Gasoline | $4.50 USD per gallon |
| Mainland Taxis | $3.00 to $5.00 USD |
| Island Taxis | $10.00 to $20.00 USD |
| Mainland Accommodation | Starts at $20 USD |
| Island Accommodation | Starts at $40.00 USD |
| Car Rental | Starts at $75.00 USD |
| Gold Cart Rental | Starts at $30.00 USD |
| Half day tour | $45.00 USD |
| Full day tour | $90.00 USD |
4. Low Season Is Cheaper #
Low season is when Belize has the fewest visitors which is between May & December. Some hotels and resorts give special discounts as high as 40% during this period.
High season is between December and April while peak season is between December & January. Keep these dates in mind before you start planning your trip.
5. Mosquitos Are Not That Bad #
Unless you're spending all your time in the rainforest during rainy season, mosquitos shouldn't be on your worry list.
Sandflies are a real problem though. They live anywhere around and are vicious little blood-suckers. They are also known as horse flies.
How to keep sandflies away

Avoid sandy areas during after sunset
Leave sandy slippers outside your accommodation
Buy a local natural bug repellant
6. Weather Apps Are Not Accurate #
You've probably looked at your weather app and seen rain the entire week. But rain normally come as short rain showers.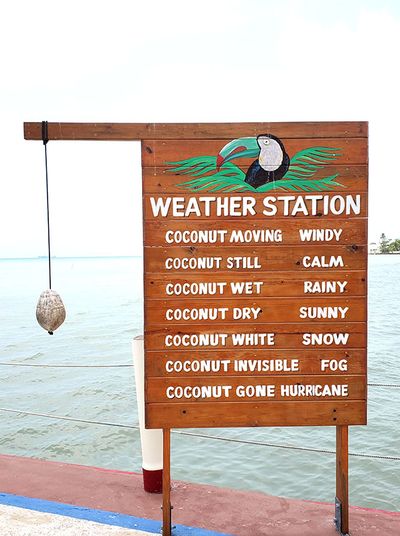 The best way to predict the weather is by looking at the sky and seeing dark clouds forming. You can also listen to the local daily forecast. Pay attention to thunderstorms and cold fronts which normally brings unusual rainfall.
7. Sundays Are Extremely Slow #
The Belizean people move life at a slow pace. It gets even slower on Sundays. Given Sundays are rest days for the locals, there are limited restaurants available.
On Mondays, expect most restaurants to be closed.
How to compensate for slow Sundays

Take public transport early in the morning if traveling on Sunday.
Dine out on Saturdays to avoid closed restaurants
Book a tour on Sunday if you want to maximize your days
Visit a very touristy area if you want an action-packed Sunday

If you can't beat the slow vibe, join the locals and chill by the beach and do absolutely nothing!
8. Watch Out For Chinese Stores #
Belize has immigrants from handful of countries. The chinese are a huge community and they are owners of most grocery stores and also owners of fast food restaurants.
There's a big problem though.
They sell expired goods so double check before you buy.
9. Catcalling Is Common Sadly #
Some Belizean men may find it normal to whistle and call women beautiful. I feel like this is part of the Caribbean culture—which doesn't make it right—but it is a part of the local culture.
My female travel friends countered this by dressing more casually and merely smiling when whistled at.
I apologize on behalf of all my chauvinistic male counterparts.
10. Tipping Is Not A Local Custom #
Belize doesn't have a tipping culture. So please, I beg you... don't bring the custom into the country. This might be a subjective opinion but tipping encourages worker exploitation.
In the long term, it also makes interactions transactional and less genuine.
If you feel a deep obligation to tip, only do so for exceptional service. Or... just do whatever you like.